Awareness is shining through the haze of a pathologically stressed, over-individualized society. The dawn of the realization that mankind has been chemically and spiritually polluting itself for decades, is breaking.
More and more people are fed up with the lack of community and trust among ourselves. Sick of consumerism being emblazoned as the holy grail.
Humanity is waking up from a mass-delusion, gradually shifting to what's truly important.
All over the world groups of people are re-building society. One garden plot, one recycling initiative, or one transition village at a time they are demonstrating there's a better way of doing things.
Seemingly simple things can make huge differences.
From reducing energy costs to lowering carbon emissions.
Realizing low-impact affordable housing.
From busting drafts to growing local food, from sharing skills such as knitting, sowing, mending and making, to recycling ,
these initiatives do not only have intrinsic value but grow communal cohesion too. People are truly connecting again. Local action can and will change the world.
Some of the core focus points of transition towns:
1. Growing and eating together of healthy, local food
2. Generating green energy and harvesting water
3. Energy neutral building and living
4. Education that fits the individual's needs and wants and the fast changing times
5. Strengthening the local economy
6. Space for congregating and shared creativity
7. Real attention to each other and oneself
A short intro to Transition Towns by Ecotopia TV
What exactly is a Transition Town? How does it look? How can I get involved? How to join or start a group and more practical info.
In Transition 1.0 Documentary

'In Transition' is the first detailed film about the Transition movement filmed by those that know it best, those who are making it happen on the ground. The Transition movement is about communities around the world responding to peak oil and climate change with creativity, imagination and humor, and setting about rebuilding their local economies and communities. It is positive, solutions focused, viral and fun.
In the film you'll see stories of communities creating their own local currencies, setting up their own pubs, planting trees, growing food, celebrating localness, caring, sharing. You'll see neighbors sharing their land with neighbors that have none, local authorities getting behind their local Transition initiatives, schoolchildren making news in 2030, and you'll get a sense of the scale of this emerging movement.
Transition Towns (Youtube video documentary series)
Transition Towns are (inter)national networks of groups of active citizens who work together to make their home, neighborhood, village or city less dependent on (fossil) energy, more sustainable and more social. The motives are the consequences of peak oil, climate change and the need for a profound change in our economy. "We can not and do not want to wait for government or business."
In Transiton 2.0 Documentary
In Transition 2.0 is the latest full length film about the Transition movement. It's an amazing story about how Transition groups around the world are responding to the challenges of depleting and costly energy resources, financial instability and environmental change. The Transition movement is spreading across the world, expelling the crisis of our civilization towards a healthier society.
Looking for a Transition Town near you? The Big Transition Map shows all people, initiatives and projects working in Transition across the world. As you can see these new forms of living are popping up like mushrooms in fall which is a great thing.
Transition Town Movement Books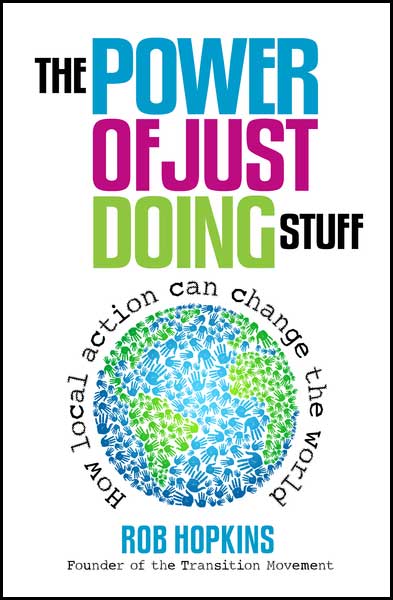 The Power of Just Doing Stuff offers a positive, practical, and hands-on approach. It showcases true stories and experiences of people setting up local initiatives such as innovative businesses. Answers to questions our increasingly economically insecure and ecologically unstable world is raising.
The Transition Movement offers fresh approaches, stimulates  people to take action, either on micro or macro level.  The book stimulates the desire to create "communities that model a local economy rooted in place, in well-being, in entrepreneurship, and in creativity".
Mainly focused on sustainable energy and food production, the book also offers practical applications on how to rebuild a local community. Eschewing political arguments of any kind, this discussion will appeal to readers of all persuasions who are eager to play a role in creating a more stable and healthier world one community at a time.
Whether the preparation for an economic collapse, a natural disaster or the ideal of a better world are your motives, this book makes such objectives achievable. It shows us "how to get going: how to figure out what to do, how to bring others along, and how to make it happen".  Are you ready to get your hands dirty?
More videos TransitionNetwork.org.