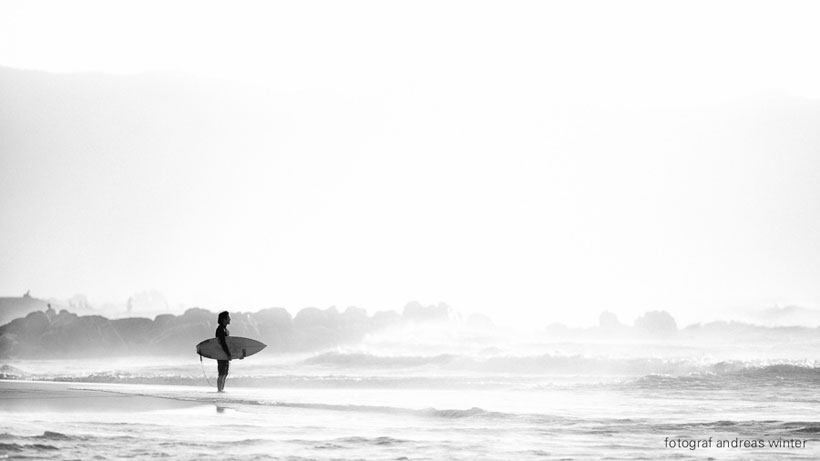 Surfing and specifically surf culture has sparked a plethora of metaphors for life itself. Surfing has a spiritual nature and because of that many quotes transcend bland analogies of falling and getting back up,
For some life's a beach, for others a wave. People have consecrated surfing as their salvation. Others even call it a religion. American psychologist and psychedelics researcher Timothy Leary called surfing our highest evolutionary activity.
Author and surfer Steve Kotler refers to the 'watery communion' many surfers experience in his book, West of Jesus. This excerpt on The Inertia post Surfing = Nature = God? explains this philosophy further,
"At the far end of this spectrum are the surfers who believe that since the ocean was the place where life began on this planet, the act of riding on a wave allows the surfer to momentarily connect with this living memory. In Jungian terms, surfing gives the surfer access to the collective unconscious of the planet."
Here are some popular surf culture quotes that may spark your inner, primal essence
.
"I think when a surfer becomes a surfer, it's almost like an obligation to be an environmentalist at the same time." -Kelly Slater
If only we were all surfers.
Being out in nature, surfing, hiking or whatever you're doing, instills awareness about our sacred Mother Earth.
That sound woolly to you? The mythological concept of Gaia is pretty friggin' far from that. All the ancient religions and philosophies teach us about how we are all one and we are part of our earth.
"I'm just a surfer who wanted to build something that would allow me to surf longer." – Jack O'Neill
Can't argue with such logic can you? You've got responsibilities that hold you back? Once you've seen the light you'll want to break free. Unshackle from consumer society. "If you accept all the doctrines of society, you'll never be a surfer." Nat Young from Surfing and the Meaning of Life.
Nowadays anyone can build their own business and manage their own time. How to create more freedom to do what you want and, for instance, enjoy the health benefits of stand up paddle boarding.
"Surfing soothes me, it's always been a kind of Zen experience for me. The ocean is so magnificent, peaceful, and awesome. The rest of the world disappears for me when I'm on a wave." – Paul Walker
Surfing teaches you to accept what is. Outsiders think it requires patience to sit out on the water, waiting for the perfect swell but surfers know you're amidst nature´s mesmerizing charm.
The wind and sun touching your skin, the motion of the water rocking your board, sunrises and sunsets, birds, seals, dolphins all help you flow into the moment.
It makes you realize that beauty is everywhere. Remember the American Beauty plastic bag scene?
You don't have to surf to be able to learn how to disappear from your thoughts for a while. A walk in the park, or even some stillness while cloud watching from your balcony can soothe your constantly nagging mind and get you stoked.
"It's all about where your mind's at" – Kelly Slater
Is your mind at TSP reports and data entry or did you manage to shut it up for a while. But if you're in touch with nature, out on the vast ocean you may get a grasp of 'losing your mind'.
Which is a good thing. If you're really lucky you may even reflect on the miniature version of the cosmos that you are, cowabunga!
Don´t have a clue what I´m rambling about? But think there may be something interesting to it? Look into Ancient Greek philosophy and the link between the universal soul and the individual soul aka microcosm and macrocosm.
"You can't stop the waves, but you can learn to surf." – John Kabat-Zinn
It's a metaphor for learning to understand inner peace. Panta rhei, "everything flows". Surfing can be daunting, especially if you´re a beginner. Huge waves, a strong current, the wind are fickle as
Weather conditions can change rapidly, perfect waves come and go and thus they are the perfect metaphor for the transience of life. Everything is temporary, nothing is ever permanent.
Realizing and accepting this helps you shake off the urge to attach things or experiences. Your urge to chase pleasure and satisfaction and ceases.
Nothing  out there can give you lasting satisfaction. If you're aware of this, you'll find peace and truly deep inner satisfaction.
"Out of water, I am nothing." – Duke Kahanamoku
For surfers, whether you're on a SUP board, body board, or wind surf board, water is their element. For every other human soul it's living in the moment. If you're constantly in your head thinking about the past or future you are not truly alive. Eckhart Tolle says it like this, "Happiness isn't in the future or the past, but in mindful awareness of the present."
"The best surfer out there is the one having the most fun." – Phil Edwards
It's like that other famous surfing quote: "Drugs? No thanks, I'm a surfer."
Working your butt off in a corporate setting to keep up with the Joneses is a noble pursuit as long as you're happy doing so. If you're not you're throwing your life away.
When (or if) you'll reach retirement  you'll be old and tired. Moreover, the future doesn't exist. Nor does the past. The only moment is now and now is the only moment there will ever be. Better make some fun now.
Just like the perfect wave, life won't wait for you.
Want more inspiration? Watch this surf documentary about the rebels who started the whole thing.
Image credit: Andreas Winter.