I may get commissions for purchases made through links in this post.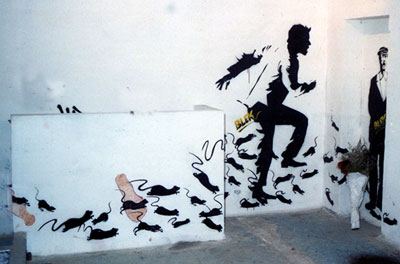 You like graffiti or you don't. It's often as simple as that. Legal and moral issues of spraying paint illicitly on walls or other surfaces that are not your property aside, graffiti is an art form that has existed since ancient times.
Some sources state that the first examples date back to Ancient Egypt and The Roman Empire. Others would say that one of the first graffiti examples are the cave paintings in Lascaux, dating back about 17,300 years ago.
You could argue here since an aspect of graffiti is that it is put up on a public place and the caves were probably their homes. But hey, let's not nitpick here, the main thing, graffiti rocks (lame pun intended).
Like the Paleolithic cavemen (and women) from Lascaux, some of us like graffiti in our homes. If you are looking for some inspiration, here are 16 kick-ass indoor graffiti ideas for your home.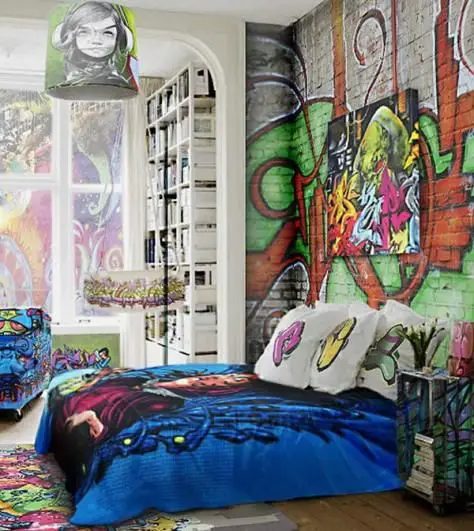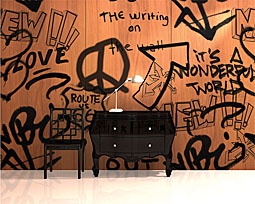 Wooden panels, the stylish black laquered furniture in combination with the bold letter-style graffiti make a well-executed juxtaposition.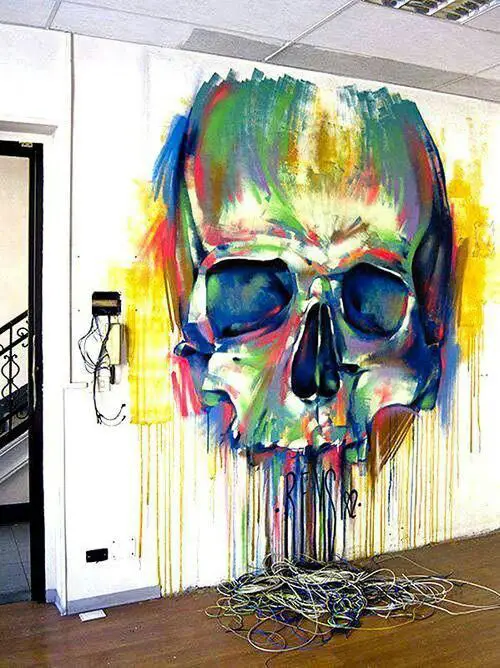 Skulls are appealing to many because of various reasons. For example because it reminds of our mortality and the insight that this is your life and it's ending one minute at a time (big fan of Fight Club here). But then again, you may just like skulls for no apparent reason.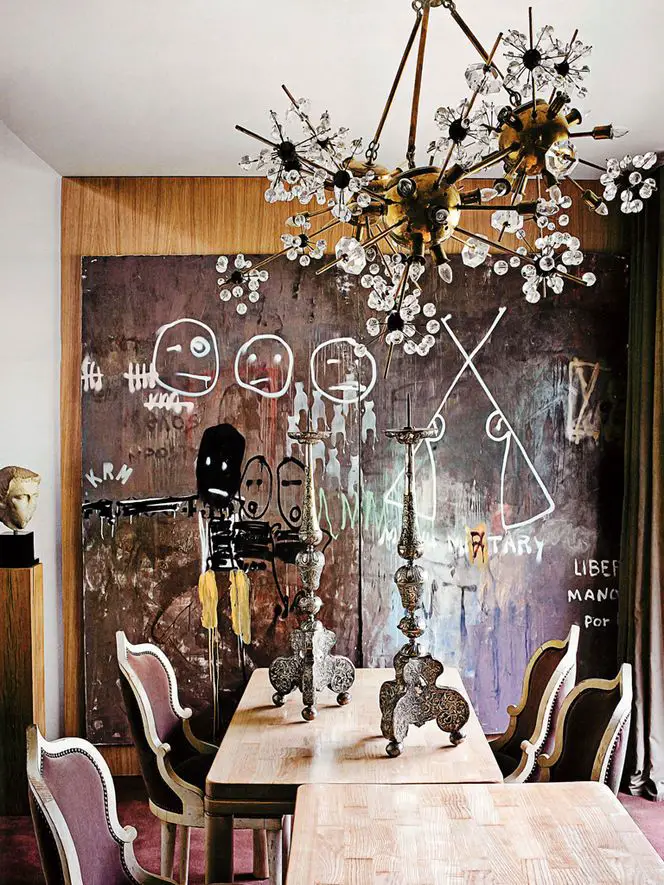 Terrific example of matching classic chique with sloppy yet very expressive graffiti.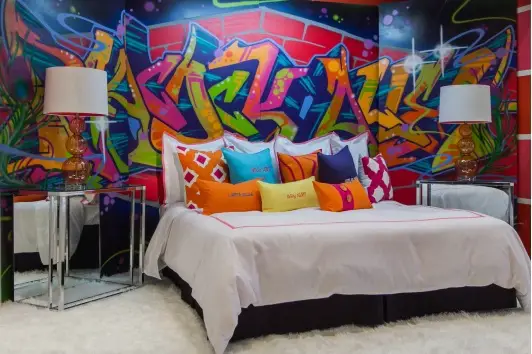 Not my colors nor style, just a little too blatant for my taste but hey luckily tastes differ right?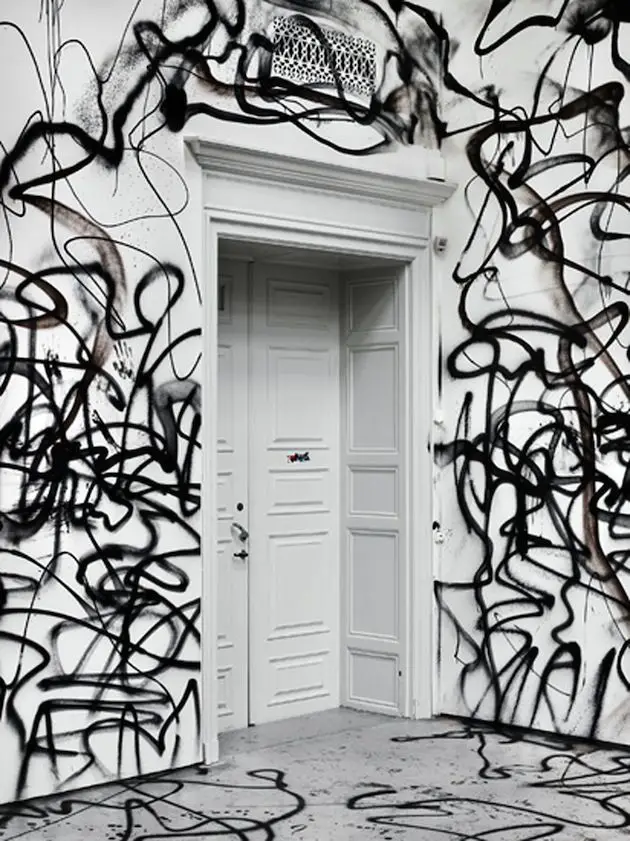 The contrast of the classic white panel doors and white walls with the (seemingly?) scribbled give it a somewhat squat feel. But that may very well be the purpose of adding graffiti to your home. For me, this example makes me wanna add to it. Color in some smaller parts with vibrant colors for instance.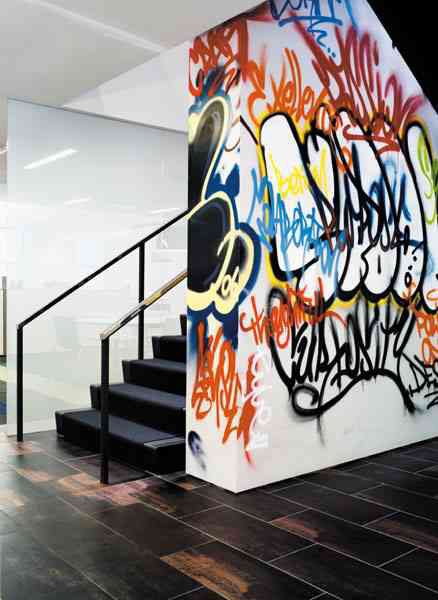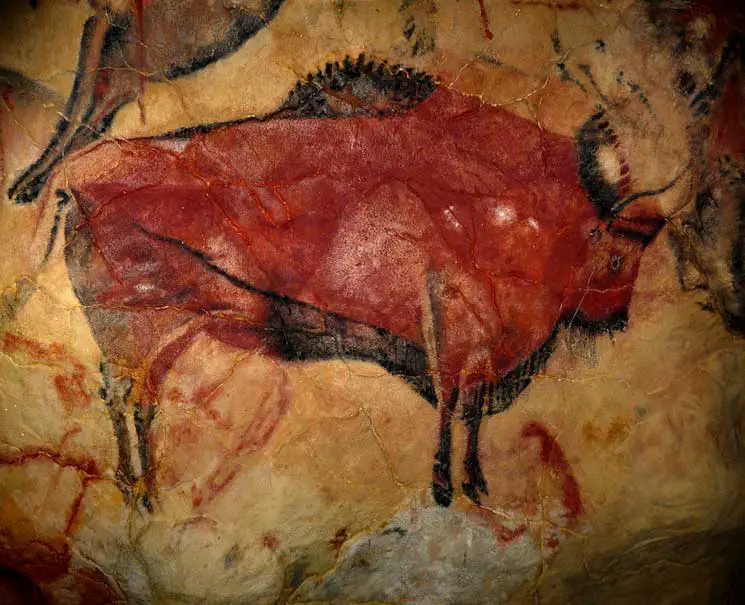 Personally, I would love one of the various stunning cave paintings in my home. Would strike in minimalist white interiors or fit nicely in homes with earthy tones, as well as many other styles. As long as you've got a large wall to put it on, trying to fit these majestic depictions in a tiny home would probably not do it justice.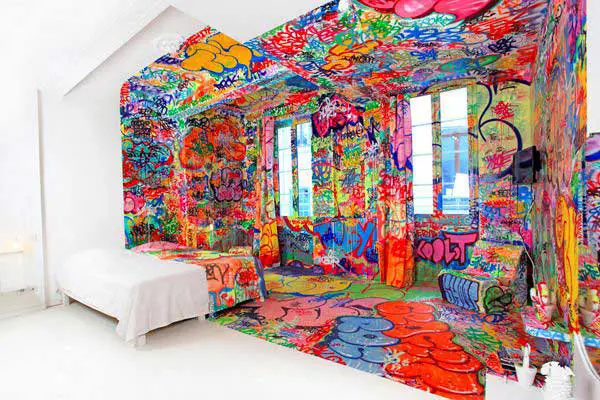 The French hotel is known for its artistic rooms. Interesting side note, Jackson Pollock was titled "the greatest living painter in the United States" by LIFE magazine in 1949, "when he was creating canvases now known to conform to the optimal fractal density (about 1.3 on a scale of 1 to 2 from void to solid)" source: NY Times. Not sure if the graffiti in this room meets that golden density standard.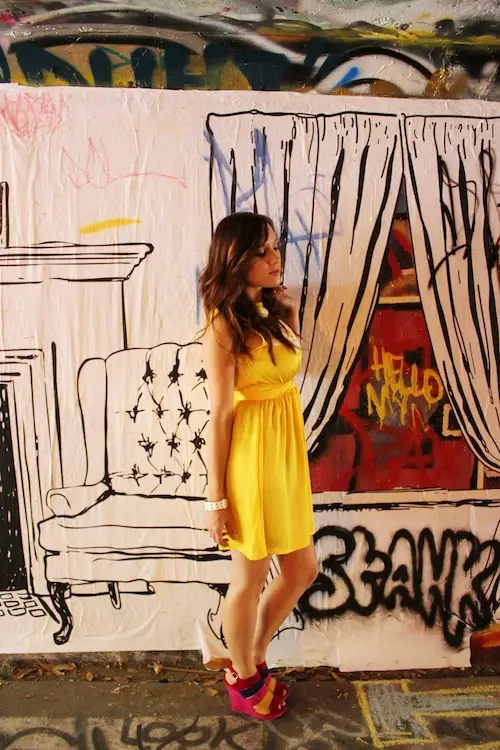 Wondering if this picture would look just as good without the girl posing in front of it.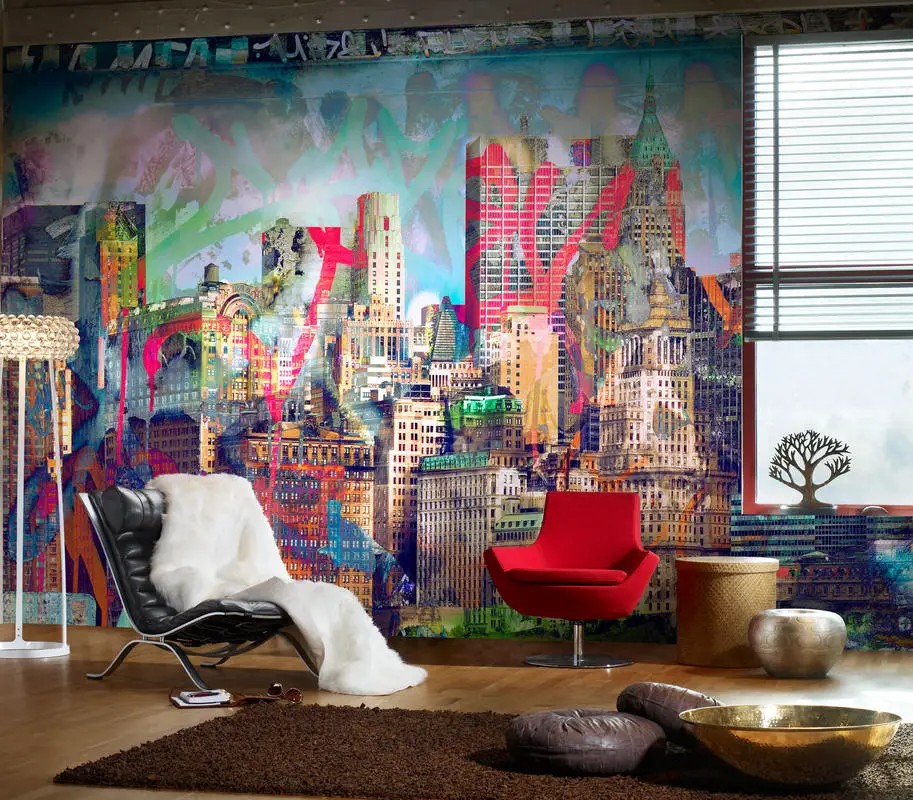 Urban settings have always been popular as home wall art. More info about this piece here.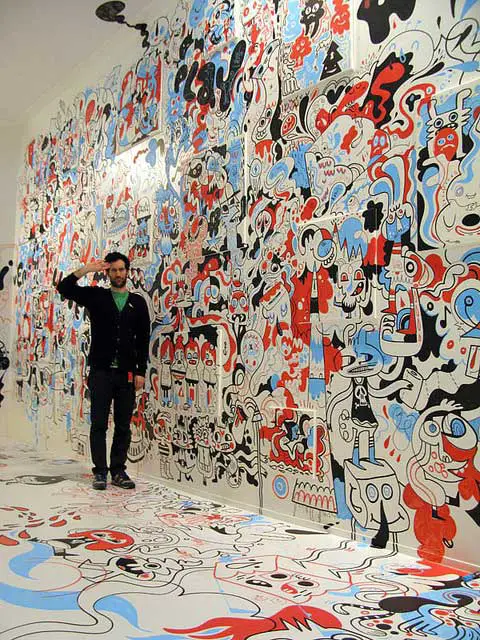 If you like his style you could always ask Jon Burgerman to come do your wall. We're not sure what he charges but a more affordable (and possibly fun) way would be to order some of his color-in wallpaper. Image: Pinterest.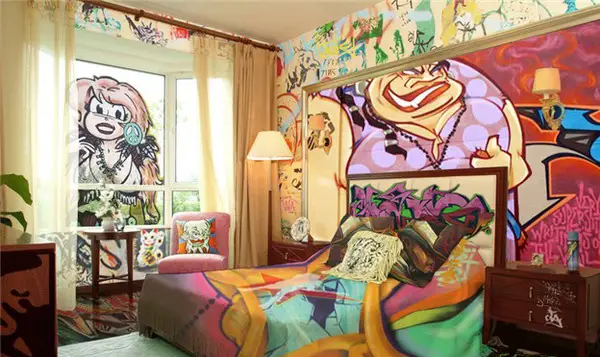 Dunno why bedroom graffiti has to be that vivid but it it may be appealing to some.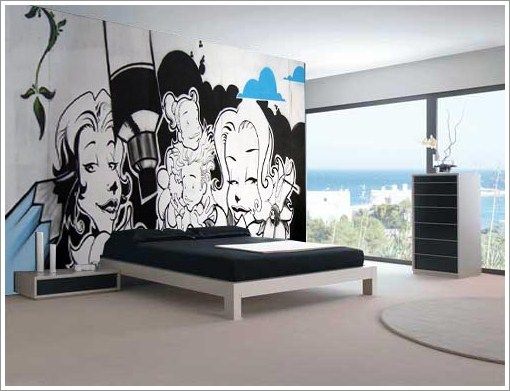 The wall art and the bed blend together centering focus on the bed and wall while the rest of the room are empty guiding focus to the amazing view through the large windows.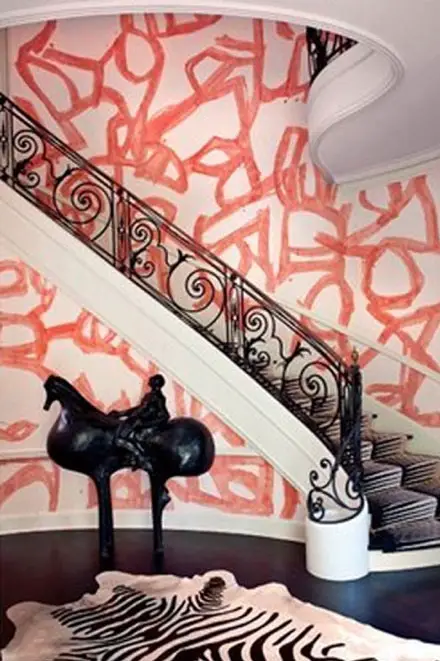 Great use of adding graffiti to the home interior mix. The gritty, girlie pink graffiti matches perfectly with the posh, stylish staircase and sculpture.
What do you think about adding graffiti to the interior of your home? Is it a firesure way of vandalazing your house or a creative expression that spices up your home? Leave your tag below.
Images: Pinterest and Google Images / Creative Commons.