I may get commissions for purchases made through links in this post.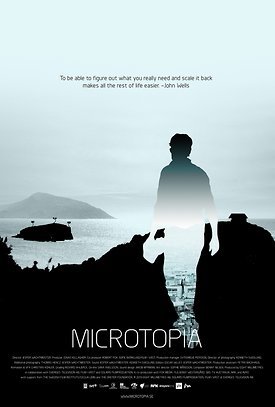 Global trends on tiny homes, micro apartments, downsizing, and off-grid living are inspiring documentary makers.
As a result a few neat documentaries have been made the past years and more are underway.
Earth's population is growing and technology is advancing in an increasing pace, allowing for more flexible lifestyles.
Lifestyles embraced by people searching for simplicity, minimalism, self-sufficiency, freedom and happiness.
All kinds of portable dwellings and small houses arise in new settings and situations.
Interesting concepts such as urban nomads living in micro-apartments, self-sufficient homes in the desert, portable micro-pods on rooftop in cities, upclyced boats, and little bamboo houses situated in abandoned factories are emblems of these modern age developments.
These 5 documentaries cover:
the changing, innovative way of thinking about housing and architecture,
tiny homes in all kinds of shapes and places.
where to put your tiny house on wheels? the realization of a dedicated tiny home community,
the concept of home
and what it exactly means to live close to each other with only the bare essentials
Microtopia
Microtopia explores how architects, artists and ordinary problem-solvers are pushing the limits to find answers to their dreams of portability,flexibility, and of creating independence from "the grid."
It features creative upcycling housing solutions such as homes in discarded trucks, boats, an island made from trash, a former graffiti artist who creates concept housing on neglected spots in Paris as a solution to accomodate the expected influx of people to the city the coming decades.
We The Tiny House People
This documentary is rated 8.4 on IMDb. It offers a clear and entertaining introduction to tiny living. TV producer Kirsten Dirksen showcases how people from all over the world have been really creative in creating shelter in caves, converted garages, trailers, tool sheds, river boats and former pigeon coops.
"This extraordinary recalibration of what it means to live the good life"– TreeHugger

 
Tiny house pioneer Jay Shafer: thinking beyond trailer parks
Jay Shafer, the pioneer of the small house movement built his first tiny house called Tumbleweed in 1997. Rebelling against building codes that require minimum sizes for houses he decided to surpass these laws by building his home on wheels.
Its design, mimicing a classic gabled home started a revolution and and his co-founding of the Small House Society- helped launch a movement.
Since a common problem is the question where to put your tiny home, Jay is now working to realize a tiny house village in Sonoma California. He hopes it will offer people a way around building codes providing more freedom to live where and how you want.
Interesting fact for the more idealistic tiny living enthusiasts: the working title is "Napoleon Complex", tagline, "cohousing for the antisocial".
TINY: A Story About Living Small
Recently backed on Kickstarter this is a short documentary about tiny houses, as well as an exploration of what exactly what home means to us.
The film features Christopher Smith and his attempt to build a 130-square foot tiny house from scratch, with no prior building experience. The film also profiles other families across America who have chosen to downsize and live in less than 400 square feet.
Less an informational documentary about tiny houses and more a study on "home" as a concept and what makes us feel comfortable in a particular landscape or building.
More at Tiny the Movie.
"Summer of (family) love" Tiny Home VW-roadtrip Documentary
Apart from the benefit of getting around building codes, wheels on a tiny home have an another advantage. You can easily move your home allowing to change places, or make a road trip.
Kirsten Dirksen, co-founder of faircompanies.com, a site on simple living documented her family's VW-roadtrip in which they visited several tiny homes in the Pacific Northwest.
"Summer of (family) love" is a roadtrip film that brings together some of the bigger names in the tiny house world with one family's attempt to live deliberately with just the essentials, if only for one season.