I may get commissions for purchases made through links in this post.
Did you know that it wasn't until the 14th century that the modern mirror was invented? For the first time in history people could take a good look at themselves. This technological development had a profound effect on our perception.
Being able to take a much clearer look on yourself than seeing your reflection in a pond led to a major advance in grooming and personal care.
A similar effect, but then on a global interconnected scale, is intended by Daily Overview. By giving you your daily update from above they hope to change the way you see our planet.
The world with all its life and beauty as a whole is one ecosystem and we are part of it. It's only after you have been in space that you really realize how special our world is. And how essential taking good care of it is.
Even though seeing pictures, how stunning and well-shot they may be, is not the same as actually being out there, some time for reflection is always a good thing.
Whether it is taking a good critical look at yourself in the mirror or having a glimpse on the larger body of which we are all cells.
Port of Genoa, Italy

44.4028°N 8.91667°E
The Port of Genoa ranks as the busiest port in Italy by cargo tonnage.
Spaghetti Junction (A-3 and M-50), Madrid, Spain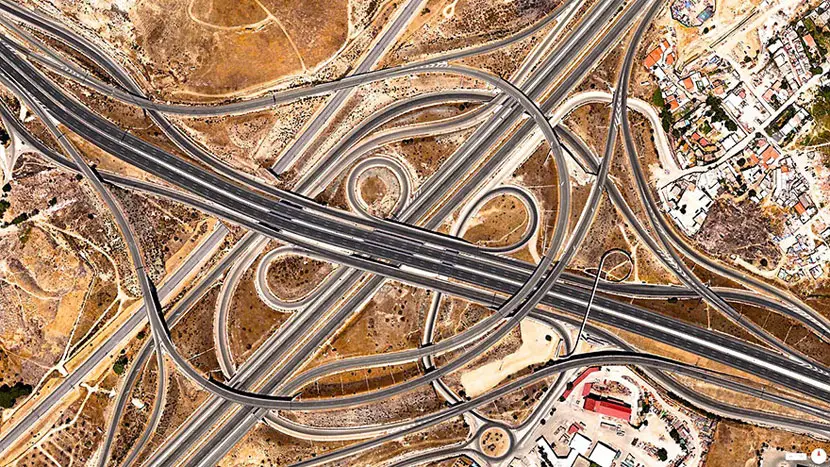 40.360051, -3.564548.
The A-3 and M-50 highways come together in an interwoven crossroads southeast of Madrid, Spain. This structure is commonly called a "spaghetti junction."
Puente de Vallecas, Madrid, Spain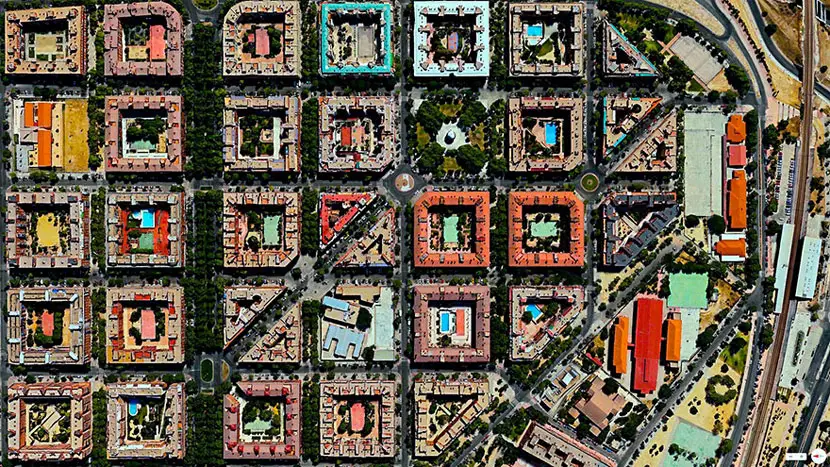 40.398204°N 3.669059°W
(Bridge of Vallecas) is one of the 21 districts of the city of Madrid, Spain.
Bourtange, Vlagtwedde, Netherlands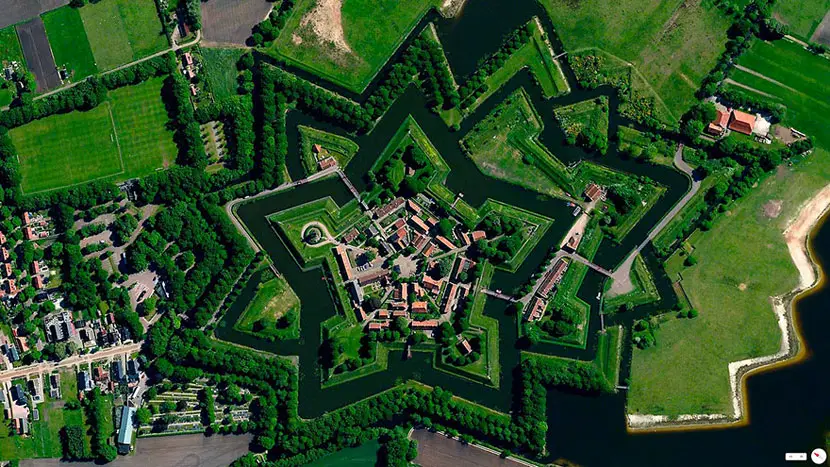 53.0066°N 7.1920°E.
Fort Bourtange, in the Netherlands, was initially built during the Eighty Years' War (circa 1568–1648) when William I of Orange wanted to control the only road between Germany and the city of Groningen which was controlled by the Spanish. This road followed a sandy ridge (tange) through the marshes (the Bourtange Swamp).
Munich, Germany at night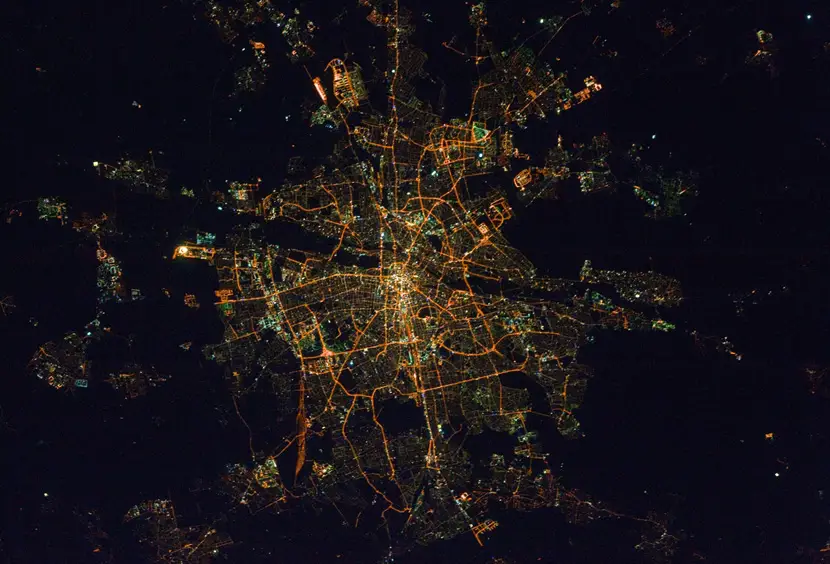 48°8′N 11°34′E
Photo of Munich taken at night from the International Space Station. Munich, with 1.47 million inhabitants is the third largest city in Germany.
This photograph is courtesy of NASA's "Cities at Night" project. You can join this project too and help identify cities in a collection of more than 1.8 million photographs captured from the ISS since 2003.
Ipanema Beach Rio de Janeiro Brazil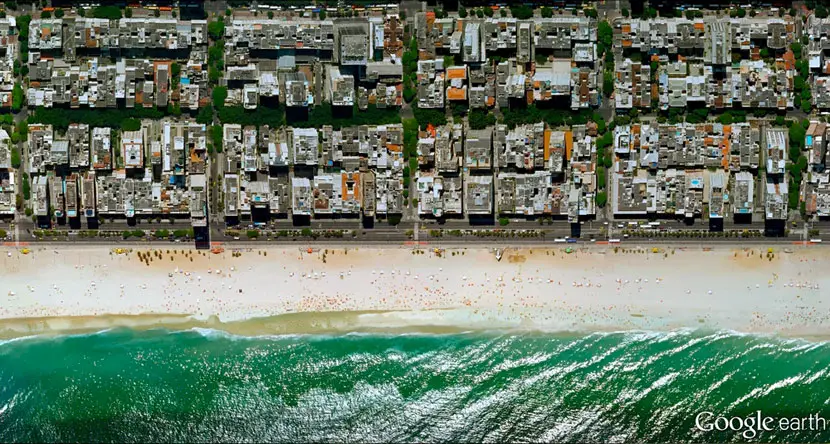 22°59′01″S 43°12′16″W
Ipanema Beach has the whitest sand of the beaches of Rio de Janeiro, Brazil. One of the most beautiful beaches in the world has high waves and a strong undertow hence its Indian name Ipanema meaning "bad, dangerous waters"
Madrid, Spain

41°23′27″N 2°09′47″E
Madrid, located on a plateau 650 meters above sea level, is the highest capital city in Europe. The name Madrid comes from the Arabic "magerit" meaning 'place of many streams'.
Brøndby Haveby, Brønby Municipality, Denmark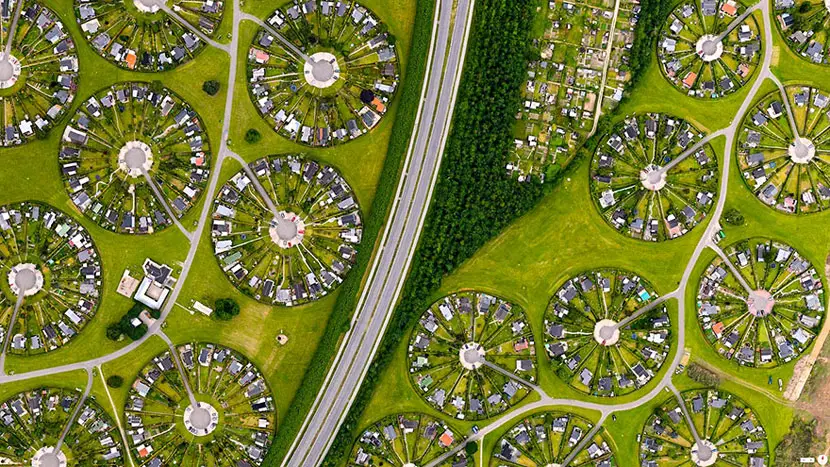 55 ° 38 '12.836031 "N, 12 ° 23′ 58.386726″ E
Brøndby Kommune, a municipality in the former Copenhagen County (now Region Hovedstaden), is on the east coast of the island of Zealand (Sjælland) in eastern Denmark.
Inman Yard, Atlanta, Georgia, USA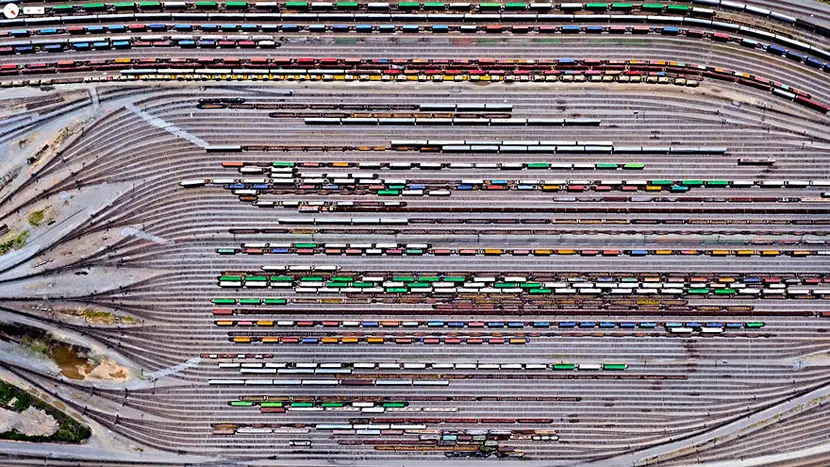 33.800083, -84.451936.
Inman Yard in Atlanta, Georgia, pictured here, is one of the major railyards that houses a portion of the operation's 3,648 locomotives and 79,082 freight cars. The Norfolk Southern Railway operates 21,300 miles of track in 22 states, primarily in the Southeastern US.
Venice, Italy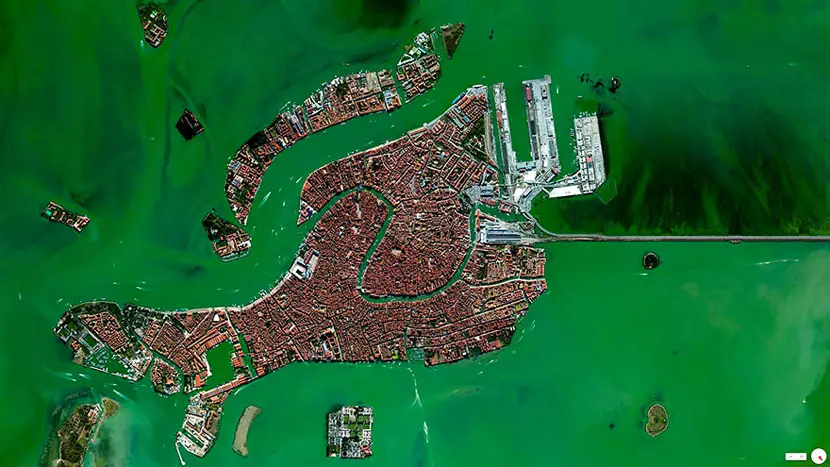 45°26′15″N 12°20′9″E
More than 1500 years old Venice is built on 118 islands. The Venice Republic was the biggest power of the Mediterranean during 1300's-1500's.
For more Earth porn check out Daily Overview or visit the EarthPorn subReddit.