I may get commissions for purchases made through links in this post.
For many people, the joys of a simpler life are dawning. They realize that feeling wealthy lies in creating experiences not in buying stuff.
As a result, an existence with less financial and menial strains is increasingly valued. Lots of free time and means to do what you want are status symbols of a new era.
The rise of the techno-nomad, paving the path for folks of other professions, and the coming of The Second Machine Age, liberating people to live their lives as they want rather than as work dictates, will allow more and more people to become nomadic dwellers.
Which ponders the question, what are your options when it comes to nomadic dwelling?
Whether you are a digital nomad, a free-spirited migratory worker, a long-term traveler, a contemporary vagabond or urban gypsie, these 16 different types of compact and mobile dwellings on land and water offer you humble living with increased freedom.

The Camper Shell Truck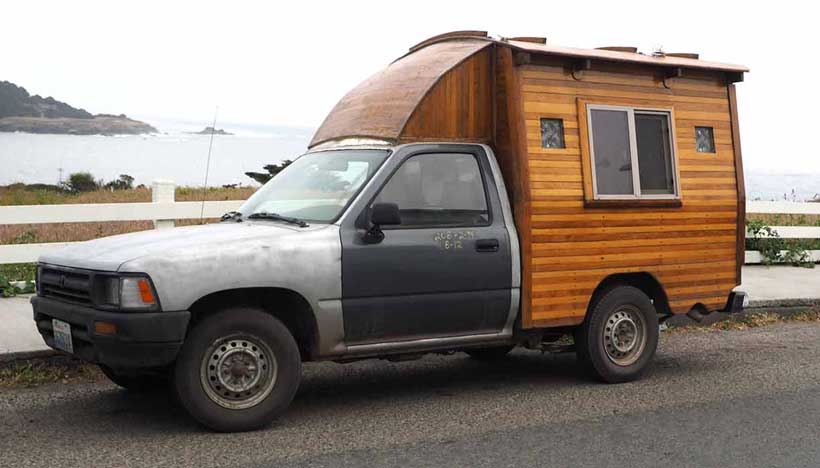 Picture this. You park your camper shell truck in a nice part of town. You stroll to that atmospheric little bakery you just spotted and grab a bite. Maybe then listen to some live music after which you head back to take a nap. Doesn't sound too bad right?
Also called truck camper tops or caps, camper shells are placed on pick-up trucks providing an enclosed area. Generally used for storage or camping, recent creativity and craftsmanship released on camper shell trucks have led to some pretty cool tiny mobile homes.
More conventional camper shell trucks or cargo vans resemble plain work vehicles or roomy pickups. Drawing less attention, such low key vehicles are popular among urban stealth campers. Visit The Shelter Blog for more info on Chris Bradys truck (photo).
The Trailer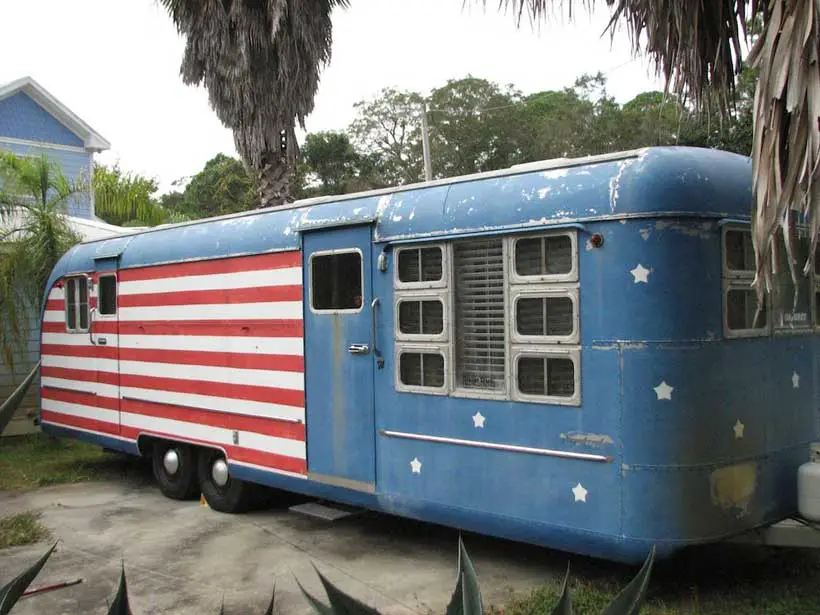 It's estimated that almost 20 million Americans live in mobile homes. Why? Because "that's how they roll". Living in a mobile home may carry a stigma but the surge of interest in, especially vintage, trailers is turning the tide.
Popular among young free-spirited folks and retirees living in upscale mobile home communities the trailer is slowly shaking off its pejorative connotation. Who knows, maybe one day, trailers have made their way into the mainstream.
Trailers range in size from really compact to pretty spacious. Feeling a bit cramped or bored? Go out on a walk with the dog while contemplating where your next home base will be.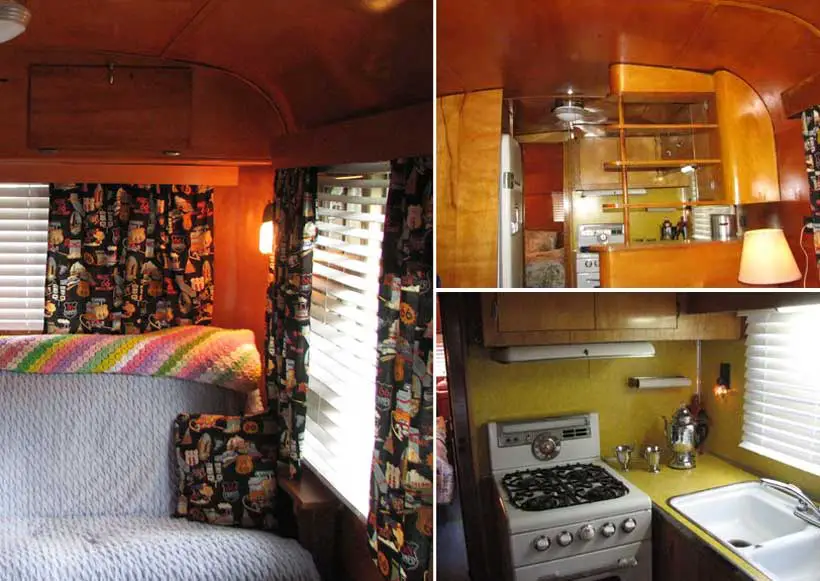 This 1959 Airstream travel trailer still has its typical fifties interior. Hit up MessyNessChic for more vintage trailers to drool about.
The Converted Bus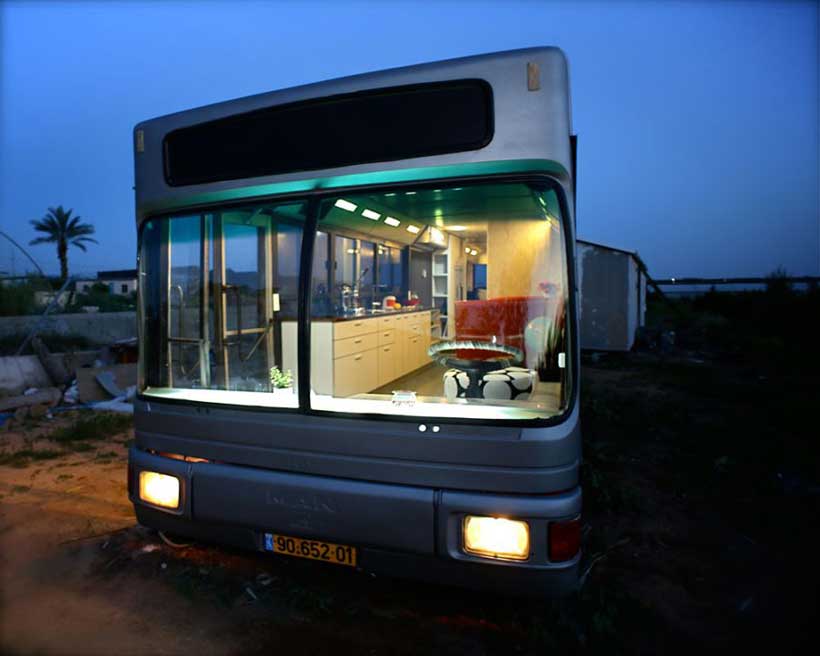 This sustainable renovated bus residence in Sharon, Israel has all the basic modern amenities such as hot water shower and air conditioner. Although stylish this dwelling is not particularly affordable with an asking price of 300.000$. Design has its price but this bus sure has appeal.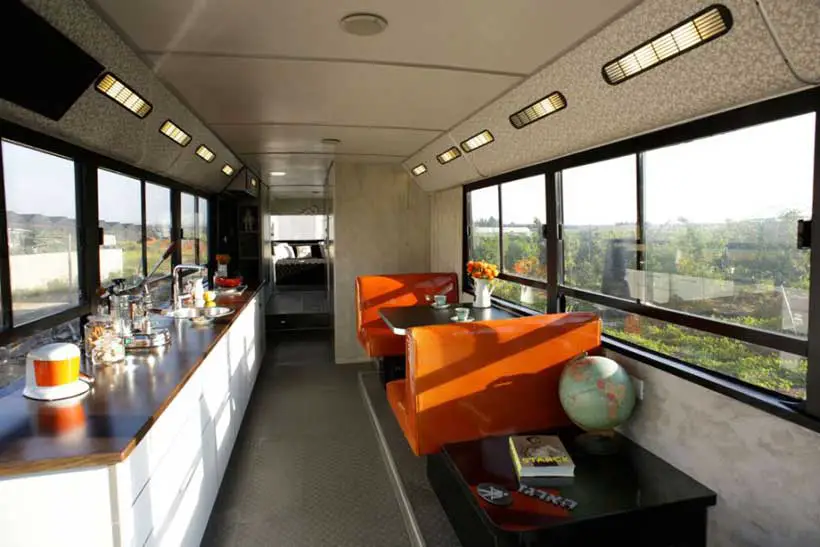 The discarded bus was saved from the scrapyard and revamped into a trendy minimalist mobile home.  By adding somewhat industrial appearing lighting, combined with the diamond plate floor the bus kept a touch of authenticity. More photos and info at Decoist.
The Converted School Bus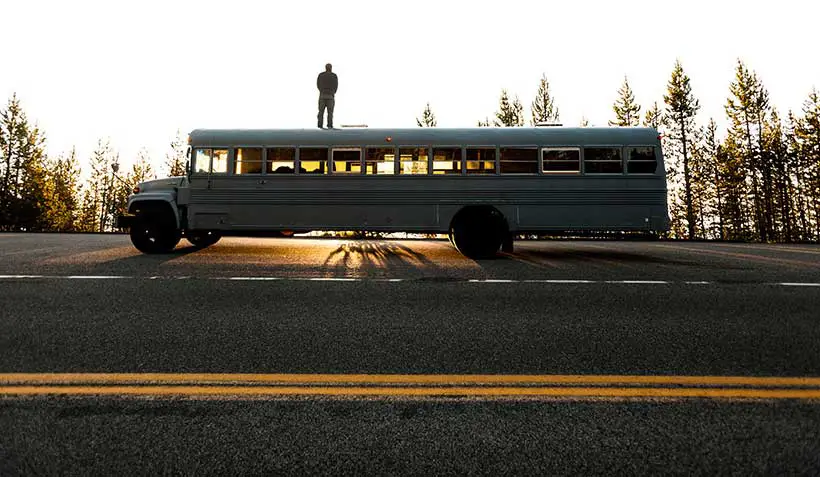 Hank, an architecture student, bought an old schoolbus for $3000 and, with another $6000 some labor and creativity, converted it into a space efficient mobile home.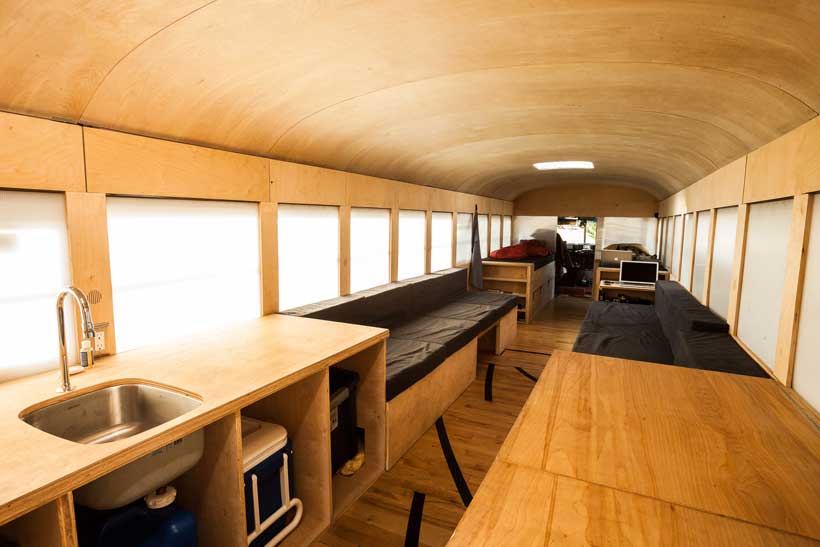 This tiny home on wheels features modular units which can be grouped to create four primary zones: kitchen, bathroom, sleeping and seating.
Personally, I like how a given space such as that of a bus can be transformed to really space efficient and at the same time cozy or stylish dwelling. Are you looking to convert your own bus into a tiny mobile home? Here's some interior inspiration for your new home on wheels, 15 awesome schoolbus home interiors.
The Housetruck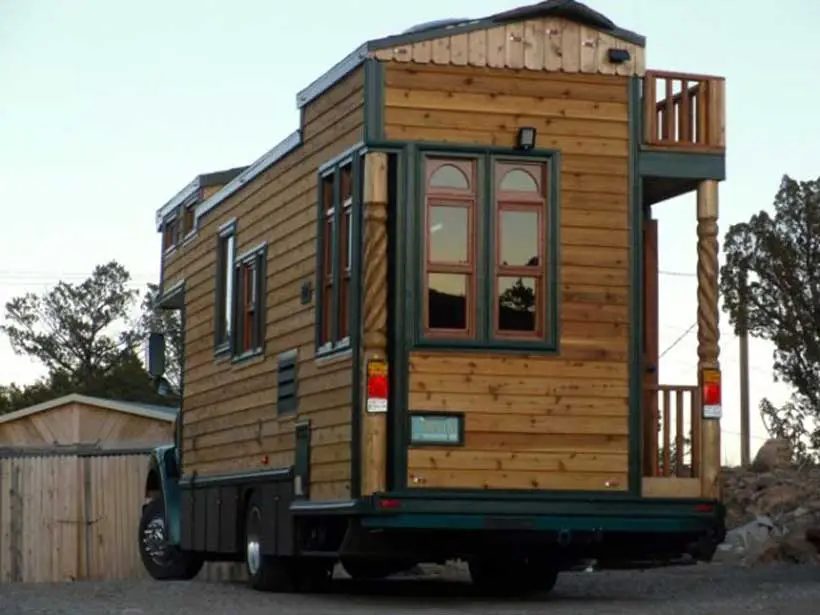 The housetruck is another type of tiny mobile living space. These vehicles often have a living and sleeping area, kitchen(ette) sometimes with little woodstove which obviously adds to the romantic factor.
Running water and a bathroom are less common in housetrucks although these are present in some. (The truck above has a pretty luxurious shower.) Often a tent or a hut with a shower room and private compost room are close by. Check out the interior of this housetruck by Michael Ostaski on TinyHouseTalk.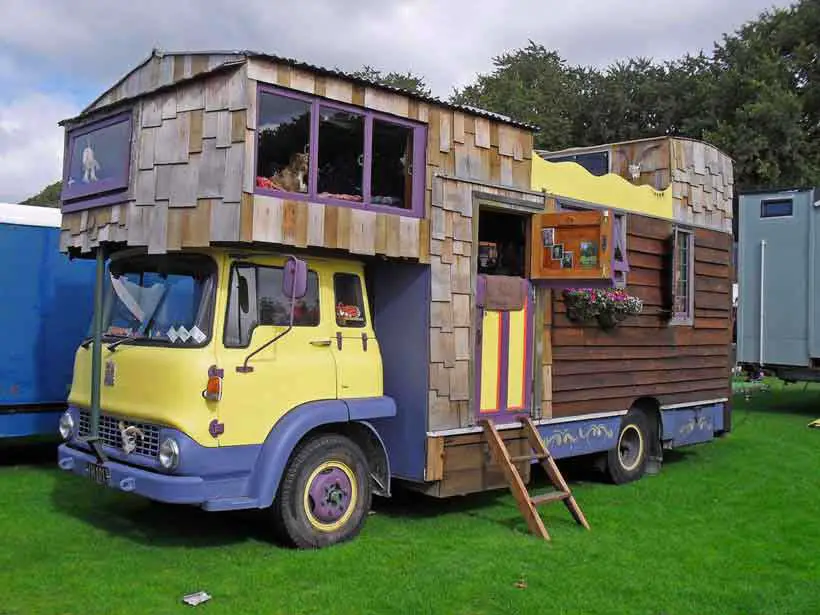 The roots of modern housetrucking lie in the mid-1970s hippie culture in New Zealand. Trucks were converted into mobile homes allowing an unattached and transient lifestyle compared to more conventional housing. Image Mr Thinktank via Flickr.
The Surf Van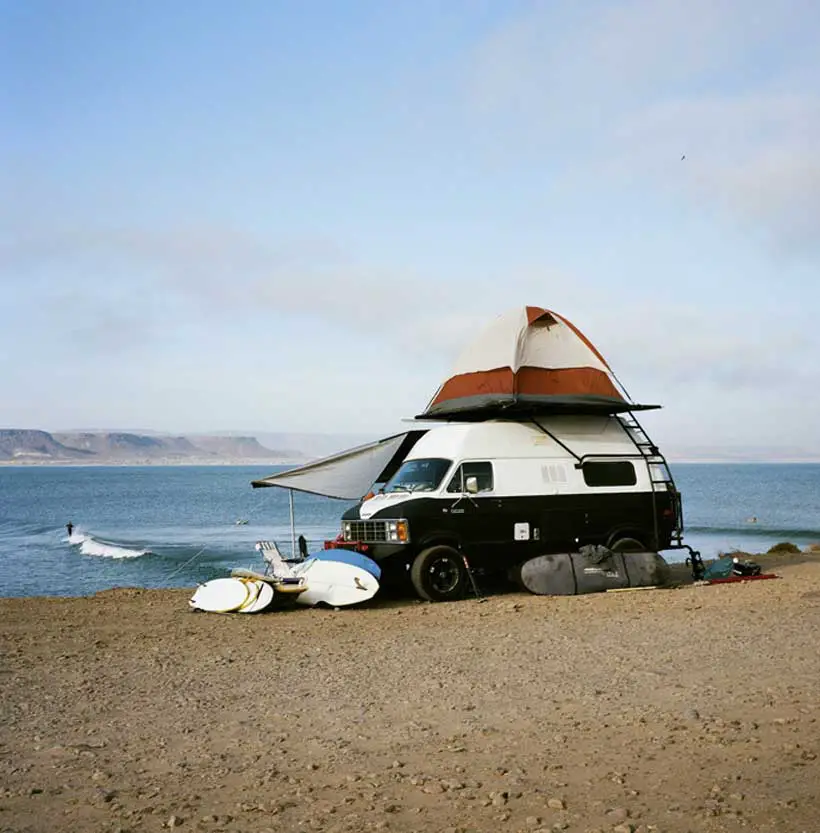 Surf dudes, kiteboarders and self proclaimed beach bums on the move often don't care that much for an upscale living standard. The surf is their element and the beach and its close surroundings their residence.
Secretively, their cramped abodes are often pretty damn stylish. Some surfers like to portray the hippie style yet practicality goes beyond everything else. This particular surf van is featured in a coffee table book named Home Is Where You Park It created by Foster Huntington.
The Tiny House On Wheels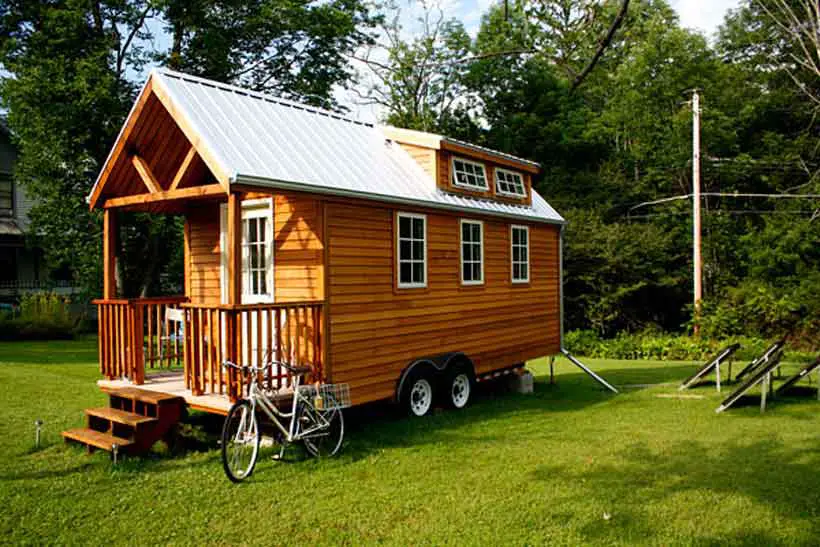 Tiny houses are typically under 300 square feet and often have wheels. As long as these tiny mobile homes stay small and mobile you can get around permits, zoning bylaws, and building codes while working within the system.
Jay Shafer, founder of Four Lights Tiny House Company, the pioneer of this relatively new form of dwelling envisions creating a whole community of these micro-residences in Sonoma County, California. A so called Tiny House Village Network is the start of realizing such initiatives. To truly enjoy a wide range of eye-pleasing photos of these freedom-increasing abodes, get Lloyd Kahn's best selling book Tiny Homes: Simple Shelter.
The Stealth Campervan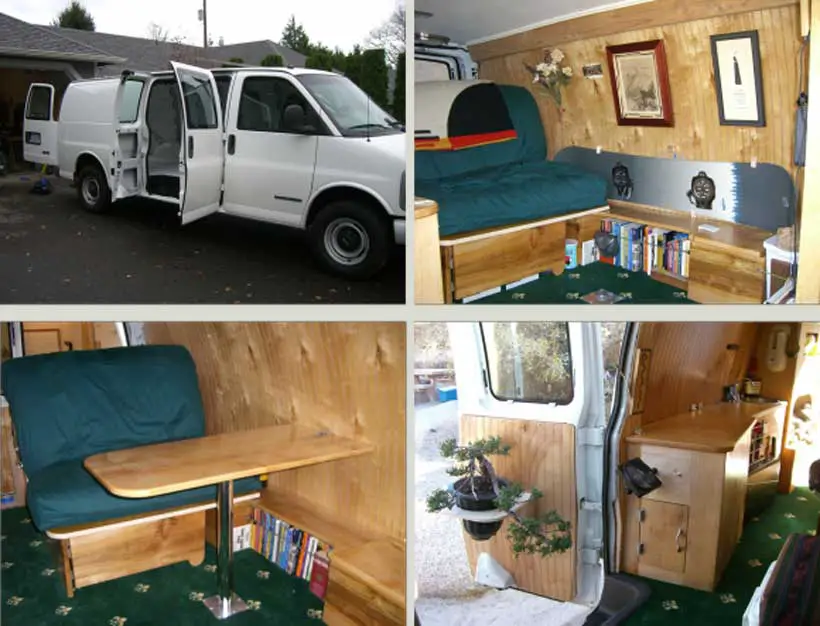 Among certain groups urban stealth camping and boondocking are the craze right now. By reaping the benefits of being unreconizable as a camper while adding as much comfort to the interior of the stealth van as possible people are getting the best of both worlds.
You can park and live anywhere you want and spend the night without being harrassed. Imagine parking your home across the street of your favorite restaurant in one of the upscale areas of town. Or going clubbing downtown only having to walk a few blocks to hit the sack at night. Of course there are some tricks of the trade you have to possess keep a low profile but that's part of the game.
On the photo a 2001 GMC Savana cargo van turned into a stealth van. The creator applied all kinds of creative space-saving solutions. Check out the whole conversion process here.
The Portable Prefab House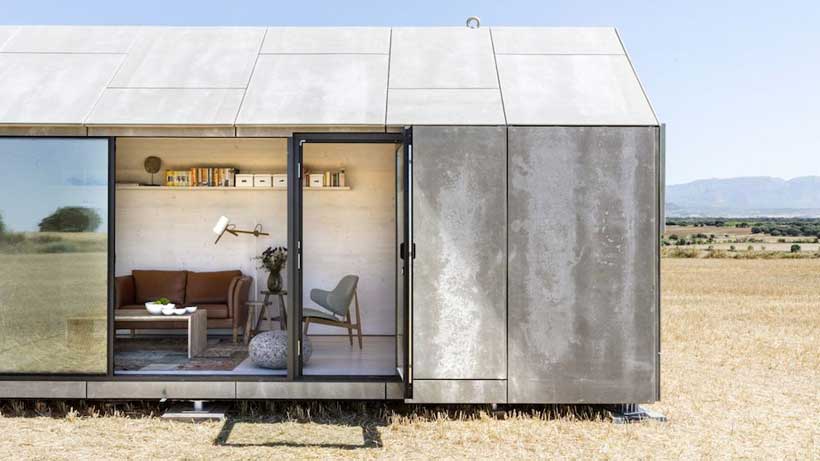 Minimalist, stylish, (relatively) affordable, this portable prefab has hooks allowing it to be picked up by a crane and transported by truck. Sustainable solutions such as rain water collection systems and solar panels could ensure setting up this structure in really remote locations.
Or maybe you'd plan on placing it someplace with pre-existing connections to utilities such as electricity and water supplies. More at Homeli.
The Yurt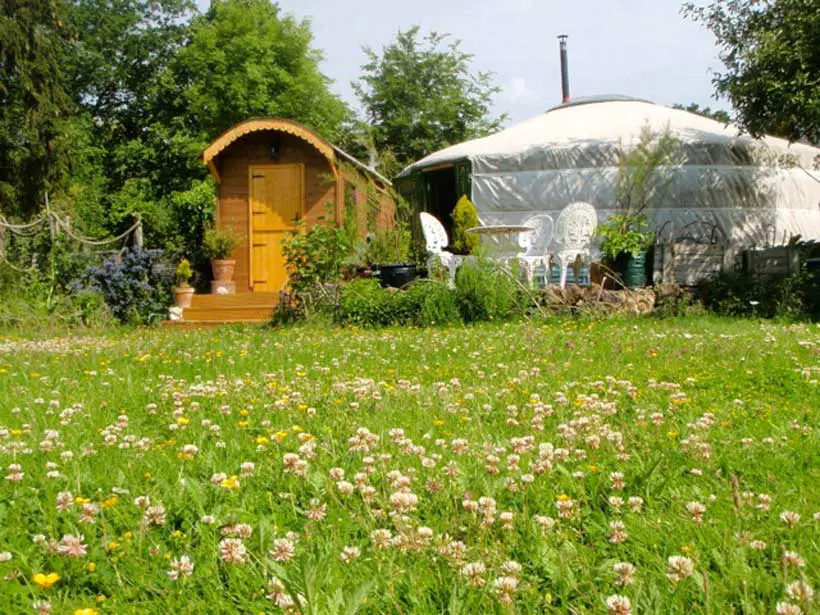 Yurt is a Turkish word meaning 'felt house'. This nomadic dwelling originates from the Central Asia continent. Here there's a yurt with a handmade kitchen and bathroomwagon combined to create an offgrid portable residence.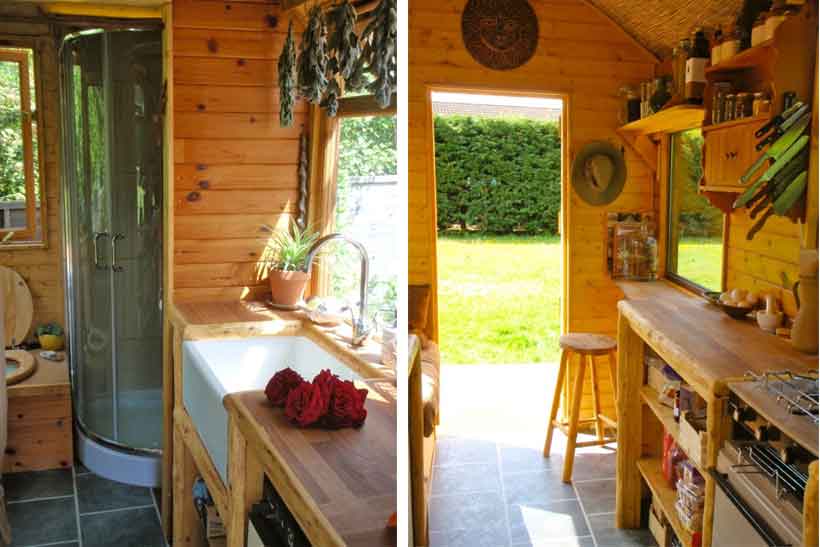 Head to Handmade Matt's website for more photos and info.
The RV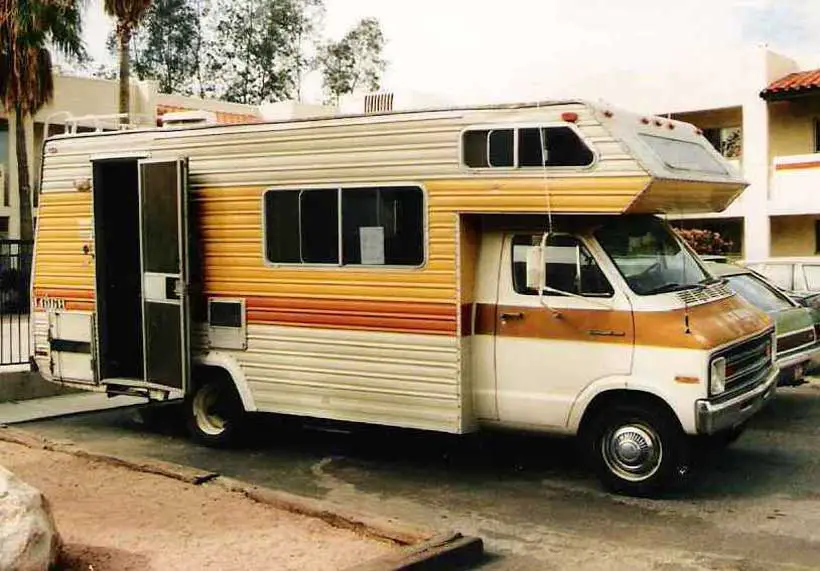 RV's are a popular choice among those who favor freedom over debt and stress and simplicity over complexity. Personally, I think RVs belong to the best ways to escape the rat race by living permanently on the road since they are designed to live in. Of course, if you are skilful it may be even more rewarding to build and customize your own tiny mobile home.
Personally I like the seventies look and colors of this particular vehicle but you could also opt for a more modern RV. Image via Mirafiori.
The Camper Bike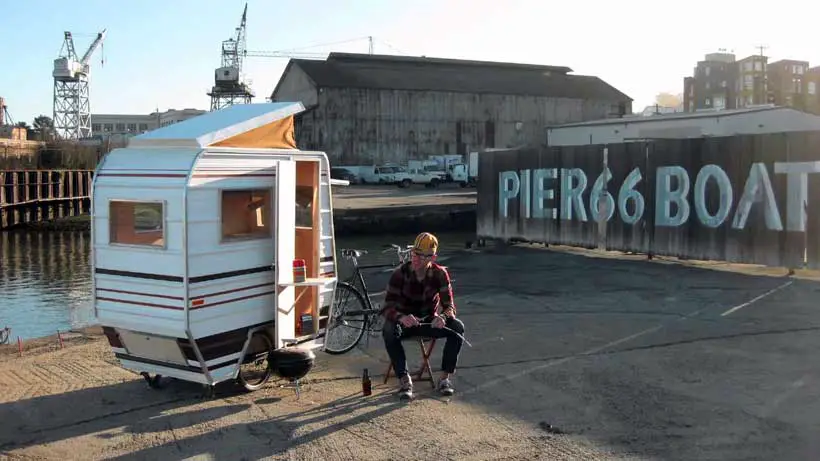 A camper bike may not be a viable option for most souls but we could imagine a somewhat bigger version would be more suitable for day to day living. Especially if you would build it on top of a motorbike or even better, an electric bike.
This Camper Bike, after all, is an artwork, part of an exhibition called Home in the Weeds.
Created by Kevin Cyr it displays a hard look on self-preservation and human persistance in a world in which the housing market is becoming crazier by the minute.
The Camper Bike is an attempt to show that you can go back to the roots, make do with very little and still have a roof over your head and wheels under your feet.
More pics at Kevin Cyr's website.
The Houseboat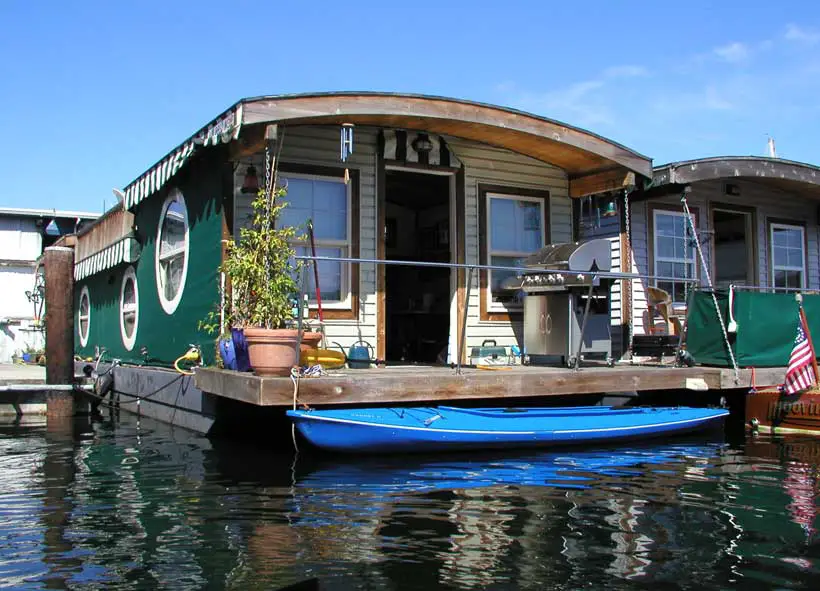 Many houseboats have motors allowing you to move them by their own merits. Some houseboats are not self propelled but all are designed or modified to be used primarily as a home.
Many houseboat owners have their home moored, kept stationary at a fixed point and often tethered to land to provide utilities. If these utilities are not present you have to keep in mind that you will have to buy propane tanks and have toilet waste pumped out. Other downsides habitants speak of is that you will occasionally drop your posessions such as cellphones in the water.
Pros of living on a houseboat are the views, abundance of natural light, the natural wildlife such as an otter climbing on the deck or a beaver floating by. Not to forget, not having to mow the lawn, that is if you hate gardening. Image via Wikipedia.
The Floating Home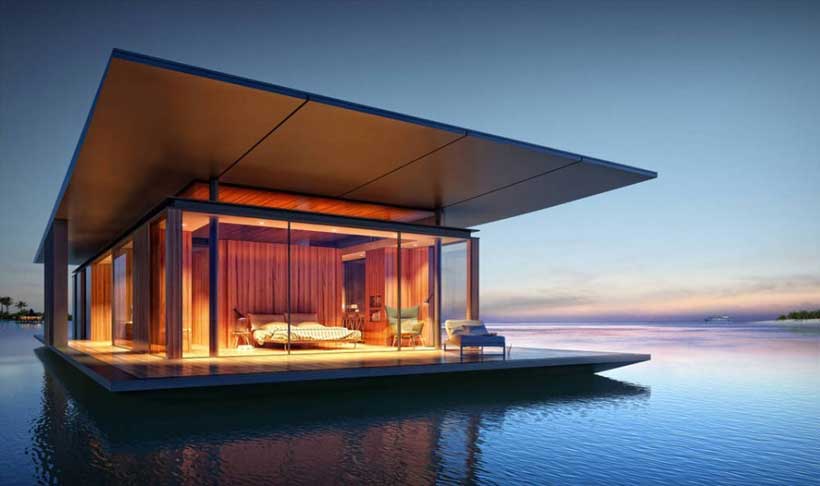 Contemporary floating houses are modern versions of an age old practice. On lake Titicaca in the Andes, the local indigenous Uros tribe have been living on floating islands for centuries. Their manmade islands can harbor up to 2000 people. This modern floating house is designed by Dymitr Malcew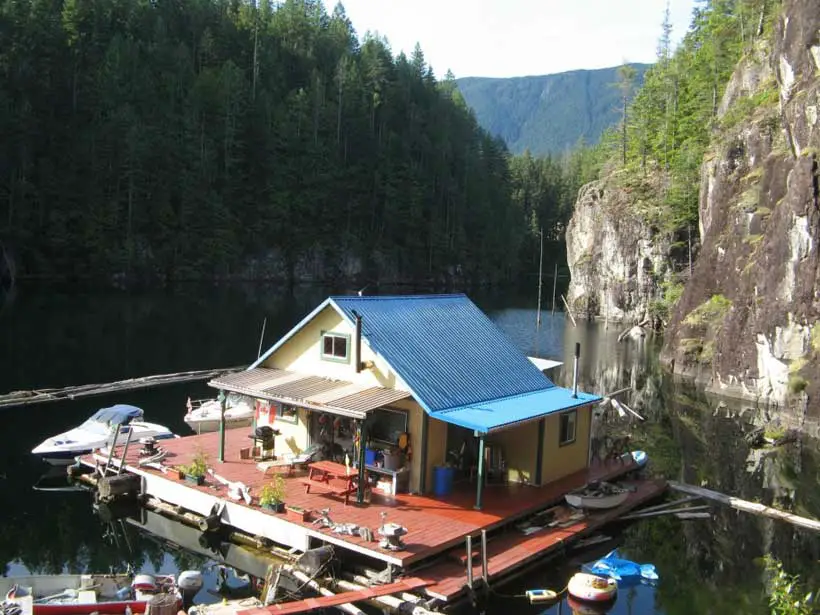 Floating houses are a growing trend in parts of the US and Europe. Floating homes can be seen more and more on lakes but also in city centers with water. Granted, these may not fall under the category tiny houses but tiny floating homes do exist too.
The Liveaboard Sailboat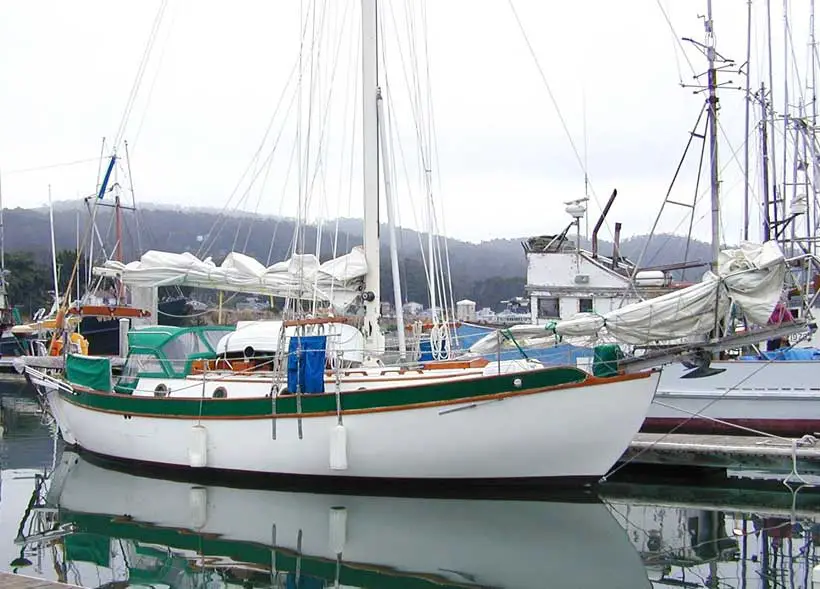 What's more romantic than living on a sailboat? Life in the marina with its sunsets and views can be extremely romantic and peaceful. Also the gentle rocking can be comforting and the close relationship with the elements, the sun reflection and the rain drops on the water are hard to beat. Not to forget you can sail away to another marina whenever you want.
Life aboard, on the other hand, also implies having to deal with mildew and mold, and lots of repairing. Storm or heavy winds involve a serious risk of damgaging or even destroying your home. Photo via Wikipedia.
The Tugboat House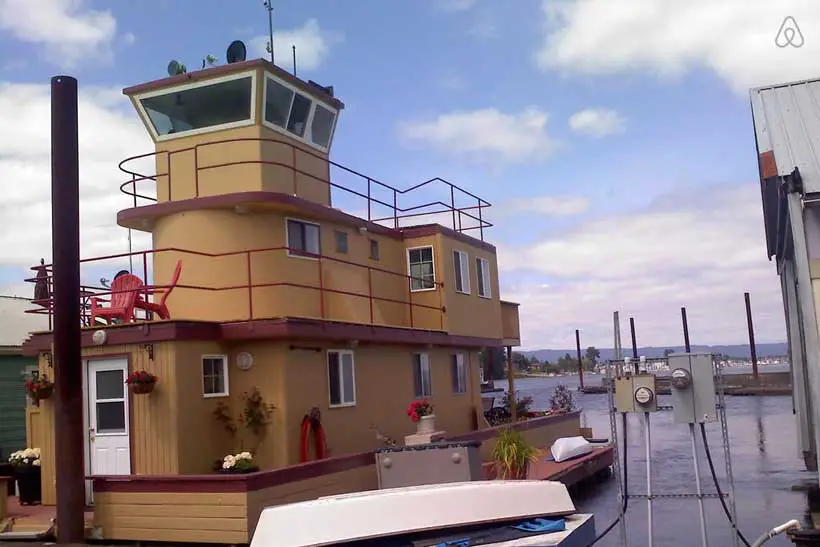 This tugboat house may not be tiny or compact even (it has a walk-in closet) but it is mobile. Like Captain Jack Sparrow said about his cherished Black Pearl, "it's more than just a ship, it's freedom."  Many tugboats are smaller but this 1937 tugboat had a super structure added to house the crew.
In a previous life the sugar cane barge was used in Hawaii. Later on it crossed the ocean to haul Oregon log rafts and now it's a Portland home. You too can make this (temporarily) your home since it's for rent on Airbnb.
Want more?
Obviously this overview is just a rough outline of what's out there. For a more detailed look on the crazy, the cozy, the cool, the cramped and the commodious among compact mobile houses check out this book.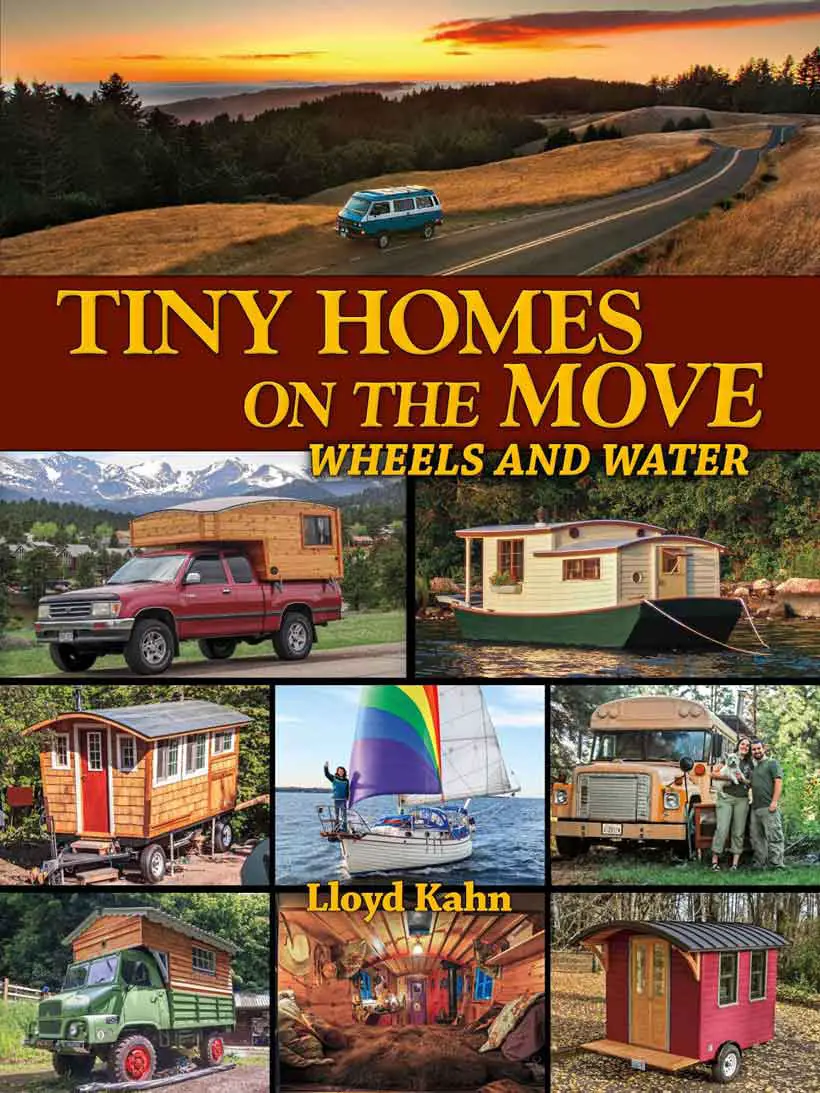 As the writers say, this book inspires you to think outside the box about shelter and believe me, it sure does. It's amazing how many different types of mobile tiny homes there are showcased here.
There are several schoolbuses, hippie trucks, rustic campers, boats, pop-up camper trucks and even a big truck with some sort of Hobbit interior as well as many other (literally) awesome living spaces I never knew existed.
I'm enjoying the book with almost childlike wonder. It's truly exciting to see all the variations in portable abodes and the resourcefulness their owners displayed in designing them.
Reading about their stories on how their unconventional lives have been so far is just as satisfying. And the photos of some of these homes situated in the middle of nowhere under the night sky make me want to hit the road right now.
It may be somewhat of a cliche but Tiny Homes on the Move: Wheels and Water by Lloyd Kahn is hardcore tiny house porn in the true sense of the phrase.
"We have something unique here. We're not just fishing around on the Internet, as is so commonly done these days. We're generating our own content: these people and stories are coming directly to us. Most of it is brand new, and there's a chain of continuity. No other website or blog has this focus or a network like this." – Lloyd Kahn.

Living in a compact mobile home is a way to incorporate novelty and new experiences into your life. Even if you are location dependent, these humble rolling sanctuaries offer you freedom in lieu of some luxury and comfort.
Which tiny mobile home would you choose?
Featured image Wikipedia.