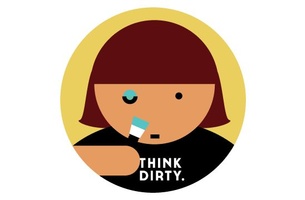 Realization that we are living in a toxic world is growing. Not only are our skies and waters polluted but most of the food we eat is as well as our cosmetic products.
We the consumers want safer products and the industry is only keeping up with our demands for so much. As a result we are forced to read labels, do internet research, read more labels, and so on.
The problem with cosmetics and personal care products is also that, since they are not ingested, they commonly are on the GRAS list, which stands for Generally Recognized As Safe (meaning they haven't been proven to be harmful to people, but they haven't been proven to be safe either).  A cynic would therefore rather refer to this list as GRAY, from gray area. It simply means we just don't know if the product is safe. And it's a tedious task to find out exactly about chemicals present in the product.
Think Dirty, a just released smartphone app comes to the rescue. By easily scanning the barcode of a product it will tell you how safe it is. You can also input a product name. The app does so by showing a rating on a scale of one to ten.
The Dirty Meter as it is called judges the ingredients of the scanned product on three aspects; carcinogenity, developmental and reproductive toxicity, and allergies and immunotoxicities.
If a product is not yet listed, I just scanned Johnson's baby shampoo which wasn't in the database yet, you can add it. By taking photos of the front and back and the previously scanned barcode it is added to the database. This way a crowd empowered information system is created.
I also scanned Prodent Fresh Mint toothpaste, it got a rating of 7. Products rating 4-7 are claimed to have "potential moderate negative long term health effects".
The Think Dirty app is one of those little innovations that contribute to a safer, more sustainable, and well-informed life. Just like food scanners and other relevant apps and gadgets are currently arising.
The creator of the app, Lily Tse said;
"Three years ago, I was moved by a short animation produced by the Campaign for Safe Cosmetics. I had the 'Aha!' moment when the story resonated with my personal experience of not able to understand cosmetics labels. Then I realized there's a need for a tool like Think Dirty. Fast track 3 years later, partnering with the Breast Cancer Fund and the Campaign is a dream comes true. They inspired me to take daily actions to shop for my health and the environment."
We want you to Think Dirty. from Think Dirty on Vimeo.