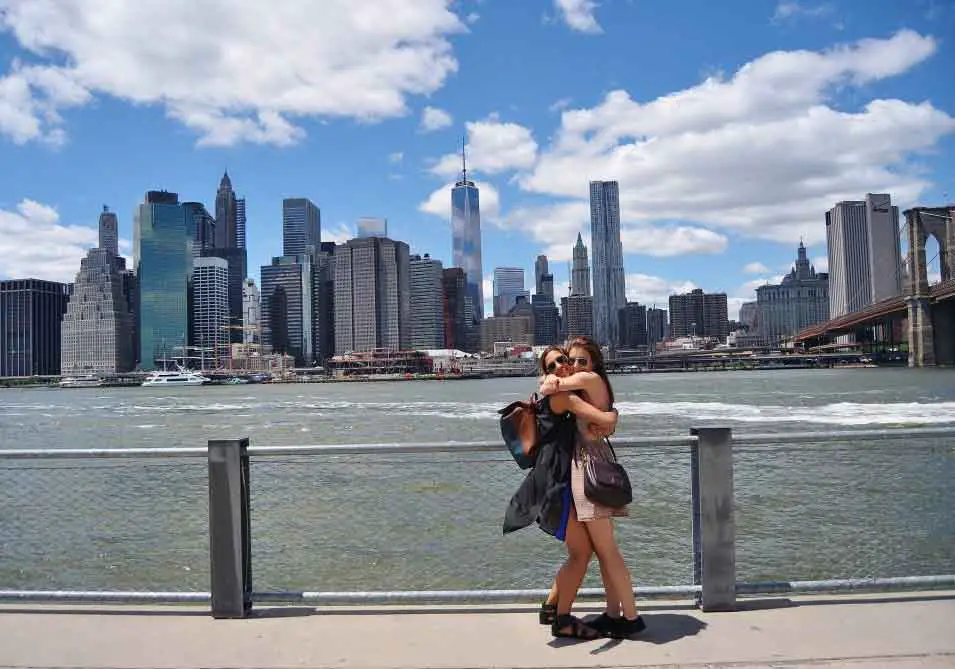 You may have heard about it.
That buying experiences is better than buying things.
The scientific discovery that possessions do not make you happier does sound plausible.
But why is that?
And how come purchasing experiences does play a contributing role in the pursuit of happiness?
Until recently, only advertisers cared about how you spent your money.
Since the early 2000s, researchers have started to look at what sort of purchases make people happier.
1. Here's why you can't get no satisfaction…
Like Mick Jagger sang about his frustration with the booming commercialism of the modern world, where the radio broadcasts "useless information" and a man in a TV ad tells him:
"how white my shirts can be – but he can't be a man 'cause he doesn't smoke the same cigarettes as me."
…Retail therapy is a drug
The average American household contains 300,000 items, from cars to paperclips, and they keep it topped up with $1,200 worth of retail spending every month.
Considering this you may be inclined to think that one would already have enough possessions to be happy. To the contrary, often it feels like we'll never have enough stuff to be satisfied.
And the quest for more continues. 'When will it be enough?' you wonder.
Is, "Treat yourself to a little retail therapy", sound advice?
Is shopping really cheaper than a psychiatrist? No cure wanted, no help desired.
Shopping for the fun of it may evolve from a harmless form of recreational escapism to an addiction.
As such it is a drug for the mildly disgruntled, the burdened, the polite, the over-worked, the shushed, the underwhelmed.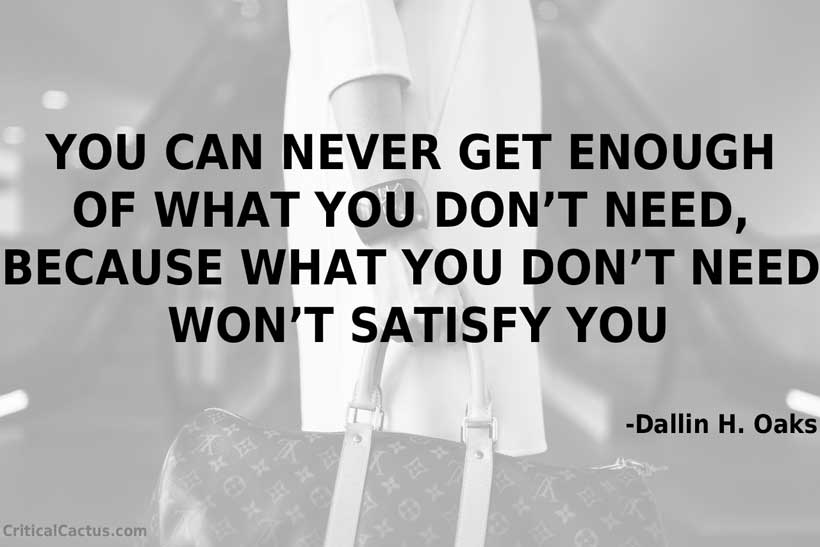 To do or to have? That's the question
To get the most out of your hard earned money, in terms of happiness, should you buy kite surfing or salsa dancing lessons, cheese making courses?
Or does buying iPads, fashionable clothes and trendy home decoration items from the brochures bring the most satisfaction?
We think that material possessions will yield us the most in terms of ((long-term) satisfaction but the contrary seems to be the case.
Psychological research indicates that spending money on experiences – travel, eating out, hobbies – improves mood dramatically, whereas spending money on physical possessions has no effect.
There's the old joke that, "Whoever says money can't buy happiness doesn't know where to shop". Actually, as research shows, it's more like
"Whoever says money can't buy happiness doesn't know HOW to shop".
2. Hedonic adaptation or, The new normal
It seems counterintuitive, but you'll get more pleasure from a one-time-only experience than a possession that will last forever.
However much you like your new sofa, you'll cease to pay attention to it after a few days, Psychology Today points out. The situation becomes 'the new normal' – this is called hedonic adaptation.
This phenomenon has been known for ages: Pliny the Younger said in the 1st century that,
"An object in possession seldom retains the same charm it had in pursuit"
To put it simply: experiences become a part of your identity. You can't get bored with something which only happened once.
3. Experiences contribute to successful social relationships while possessions can't be shared
Imagine going to someone's house and discussing the fact that you both have the same TV; then imagine meeting someone and discovering that they too are obsessed with Orange Is The New Black.
Which is going to be the more interesting conversation?
You'll feel more connected to someone who shares the same interests as you than someone who has the same possessions as you.
Possession is always a solitary thing. My car, my house, my money. Experiences can be shared, in the moment or by discussing them afterwards, so they serve to strengthen social bonds.
4. The fun of anticipation…
Remember when the last Harry Potter book was released? Excited geeks queued overnight outside book stores, wearing fancy dress under their sleeping bags.
Technically, a book is a physical object, but what they were interested in was the story; queuing up was part of the fun.
Now think about the Black Friday riots over discounted TVs in Wal-Mart. The difference is that Black Friday shoppers are competing for an object, whereas Potter fans were sharing an experience.
Psychological studies show that part of the pleasure of an experience is in waiting for it. Have you ever bought something online, and fumed when it didn't arrive the next day?
There's no fun in waiting like that. But if you've booked a restaurant table for Thursday night, you won't find yourself wishing you were there on Tuesday morning.
5. …. and there's the pleasure of remembering
Memories are often warped by time to seem even better than they were – the longer you've been married, the more magical your wedding day will seem in retrospect – whereas an object only deteriorates with time.
Physical possessions break, tarnish, and go out of date, but an experience lives on in memory. Even a bad experience can become a funny story once enough time has passed.
6. You are what you do
Dan lives in a one-bedroom apartment, and most of his furniture comes from Ikea. He uses Head and Shoulders shampoo, Pledge furniture polish, and Le Creuset cookware. He drives a four-year-old Skoda and he's saving up to buy a house in the next few years.
James works for a library, where he helps kids from disadvantaged backgrounds to learn to read. His favourite band is the Pixies, he likes Indian food, and he's recently joined a running club. He went camping with friends this summer and he's saving up to go to South America in the next few years.
Which of the two seems like a more interesting person?
Poet Heinrich Heine famously wished people would…
"Ask not what I have, but what I am".
People are defined much more clearly by their life experiences than their possessions.
7. stuff overload causes 'Stuff-ocation'
Where did all that junk in your garage come from? Most of us have houses filled with things we don't need but can't bring ourselves to throw out, and a buildup of useless stuff actually damages mental health.
8. Materialism and the green-eyed monster
You're totally happy with your job, until you find out that the guy at the next desk earns more than you.
You love your vintage engagement ring, until your sister's fiancé gives her a 2 carat rock.
The urge to compare yourself to others is almost unstoppable.
Because experiences are personal, they can't be compared in the same way as possessions. You might feel a pinch of envy when you hear that your friend has just spent a fortnight in the south of France.
But it's nothing like how you would feel if you went over to her house and saw a new Mercedes in her driveway.
9. Great minds think alike (about materialism too)
All major religions see materialism as dangerous.
Muslims are obliged to give a percentage of their income to charity;
Buddhists believe that desiring possessions leads to long-term suffering;
in Christianity, greed is one of the seven deadly sins.
When such disparate belief systems are united on something, they must have a point right?
There's an old saying that
"money is like manure: unless you spread it around and help things to grow, it's just a heap of shit"
How to maximize happiness from the stuff you buy
Own your things, don't let them own you
Unless you're a monk or an anarchist, you'll always want some material possessions. What's the key to maximizing the enjoyment you take from what you buy?
Focusing on the so-called "experiential aspects" of your new toy seems to make it more pleasing.
For example, if you get a new bike so you can take long rides in the countryside, you will enjoy your purchase more than someone who buys the same thing because it has an ultra-light titanium alloy frame in a limited-edition color.
Some call it minimalism, others essentialism but in the end it comes down to this, buying only what you really need or what really brings you joy. This can be stuff from the thrift store or high-end expensive products that are worth every penny.
The key to boosting your return on investment is to spend money where you spend time. And for the rest, focus on the little things, for they often turn out to have been the big things.
Where things are often just moments. A hike in the woods, delicious dinner in a good restaurant, savoring a good book.
It's like Kurt Vonnegut said..
 'Enjoy the little things in life because one day you`ll look back and realize they were the big things.'
References