I may get commissions for purchases made through links in this post.
Sounds awfully appealing right? To travel the world in a camper van.
No wonder it's a popular bucket list item.
Campervanning your way around the world is an adventure to take at least once in your life. It's different. You may 'find yourself,' at the end of your journey, or you may not.
All you need is a van and a sense of adventure. And the world is yours, literally: New Zealand, Route 66, a trip along the Great Ocean road of Australia, Highway 1 in the US,or the A82 in Scotland.
Just close your eyes for a second and imagine this,
you, at the wheel driving the most iconic routes in history.
Here are 14 other reasons.
1. It's a pretty cheap way to travel (or live)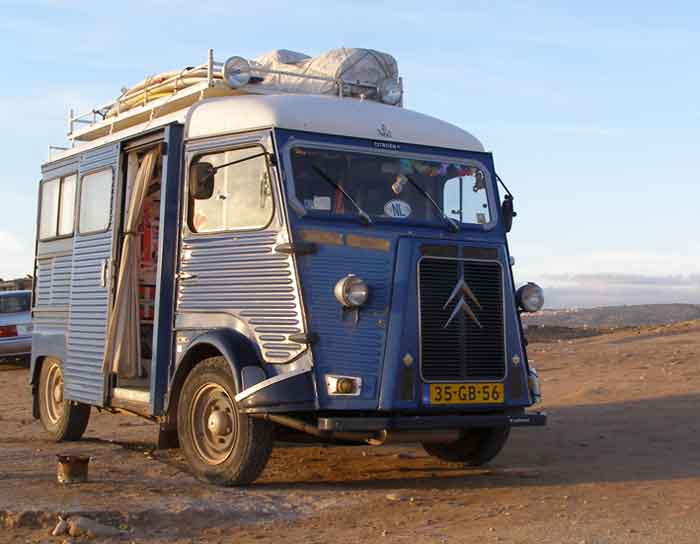 See the world on a dime, in comfort. There's more to this world for way less than you're paying right now. There is. Buy or rent a friggin van and get out there.
You will never know the thrills, spills, highs or lows of the eternal search for wifi or free camping until you do. It's perhaps the cheapest way to get round the world other than backpacking with a tent.
You've seen those poor souls walking along the road with their overloaded rucksacks right? No choice but to keep walking onward forever, constantly exhausted. Do they ever look happy? No, they do not.
They are miserable. You are not. You have a van, you are comfortable. You have your travel and accommodation sorted wherever you go. *Honk honk*.
2. Eating out gets a whole new meaning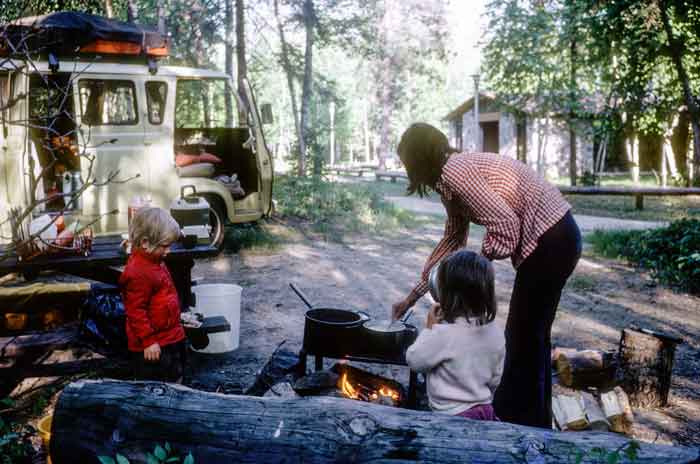 Eating outside the van is a whole lot cheaper. Cook for like, $5 a day. You'll be amazed how quickly you learn to improvise your evening meals. Or eat real local food with real local people, not the touristy garbage hotels try to convince you is authentic.
The day when half your weekly shop ended up in the trash will be over. You'll buy what you need, and nothing more. And I don't mean, surviving on baked beans and beer 7 nights a week either. Eating out of a van can be quite the refined experience if you learn how.
 3. You can enjoy the pristine night sky like our ancestors did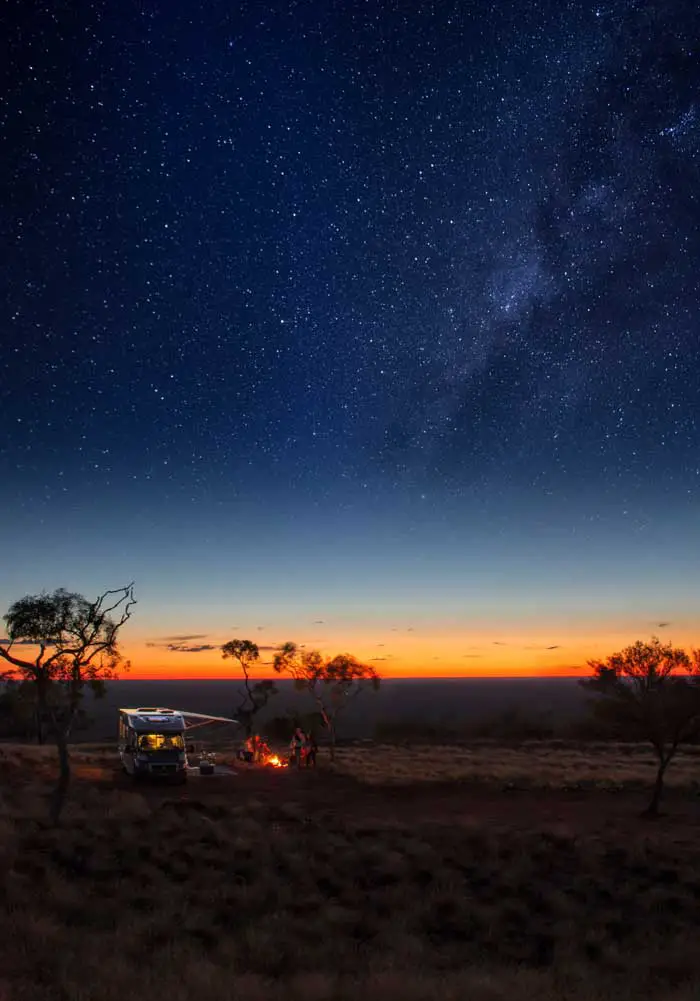 By night sky watching, you'll learn about astronomy, stars and comets the entertaining way. Feel in touch with your universal soul and become a true cosmological expert while you're at it.
4. Waking up in nature is hard to beat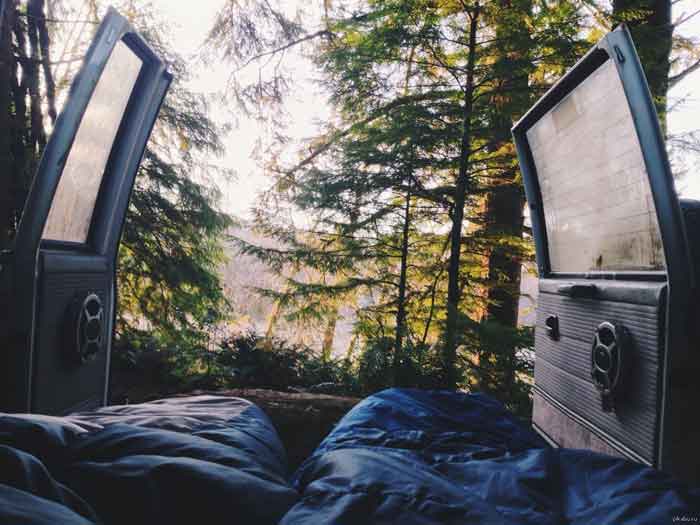 In a camper van, you wake up to whatever view you parked up at, and whatever that stain on the sheet is, it's yours.
5. You can visit the most dazzling places

Travel the world in your own personal hotel. All be it it's a hotel where you have to do your own laundry, and make your own breakfast.
On ordinary traveling vacations, even finding a hostel can be a nightmare. You spend hours scouring for someplace that you might not consider decent enough for your worst enemy to sleep at. And you'll spend the night wondering what the stain on the sheet beside your head is.
Do you want the dawn chorus of rush hour traffic and the majestic site of another grey dilapidated building blocking all the sunlight in the world? Or do you want the view and sounds of a mountain lake, the sunlight playing gentle rainbows on the calm ripples on the alpine fresh water. It's your call.
6. You can work from the road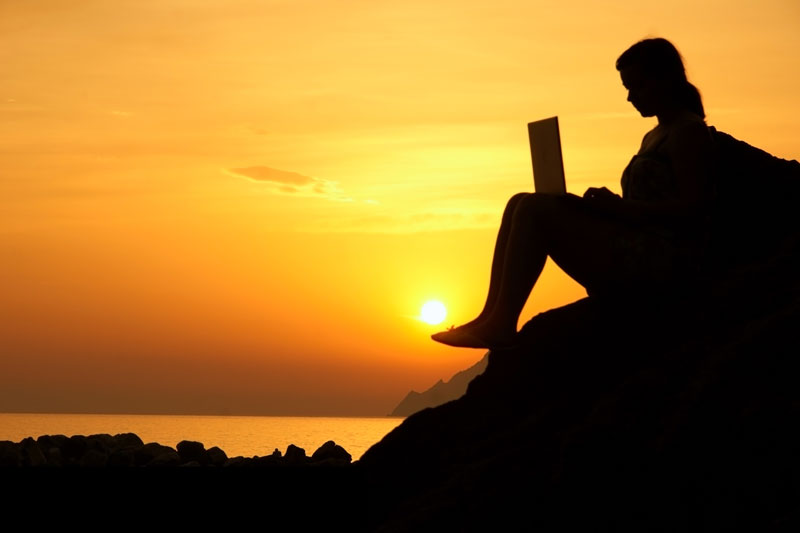 Work from the side of the road. If you have a laptop and a wifi connection you can latch onto then you're set. You don't need to be in the office to work: Unless you're into that whole back knifing, rat race, Gordon Gekko narcissism thing. If you're savings while vanning aren't enough to live on, then you can probably dial it in a couple of times a week.
If your office was a dick about you taking off, then you can always freelance, or work casually behind bars, in fields etc. A flourishing career may be on your path. But a few days here and there at a time is fun. And you never know who might meet.
Sometimes you have to choose between wifi and watching the sun go down over a perfectly framed mountain lake view. You never know, you might wake up to see a moose, a penguin, a bear, or the love of your life through the windscreen. Get off the beaten track, and if you're lucky, never get back on it.
7. You can channel your inner troubadour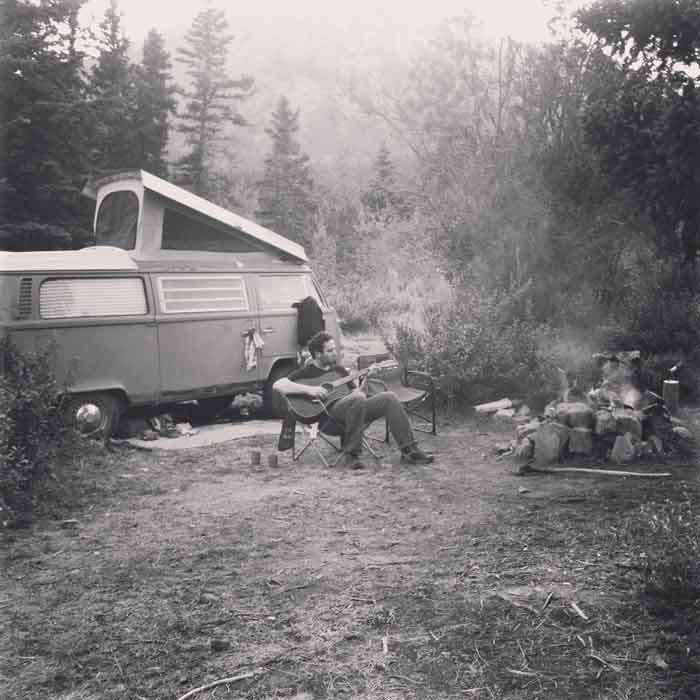 8. You can stop just as easily in the city as in nature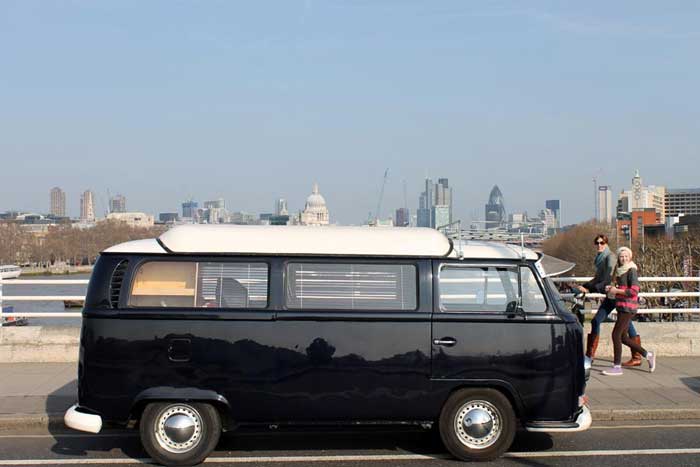 Well, almost just as easily but hey, you can get almost anywhere.
While parking up some new spot you can meet new people too. It's a well known fact that people love other people in camper vans. Especially if the people inside the other campervan aren't complete tools.
There will always be someone with a bigger and better van than you. Deal with it. If you think you've left the whole keeping up with the Jones thing far behind you, then oh how wrong you are.
But get over that, and become friends with other van travelers. They may have fridges. Fridges mean cold beers. Van friends may be the people you meet again and again on your journey. If you can't stand this fact of van life, then exercise the ultimate freedom. Ask them where they're going next and then take off in another direction. Life is simple when you live in a van.
9. One day you surf, the next you snowboard (or surf)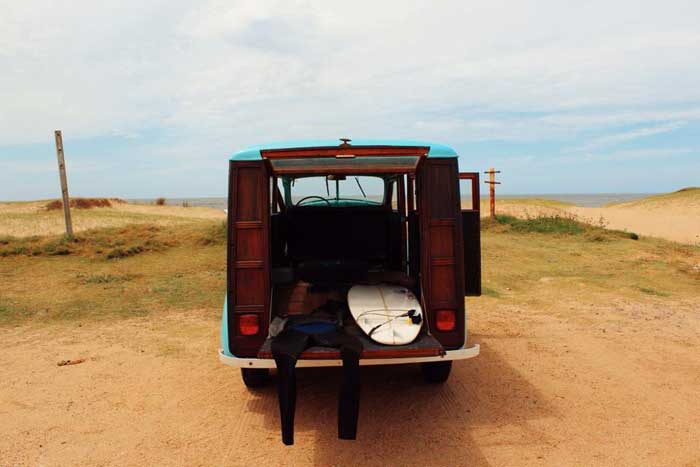 Surfing or skiing? Your choice. Decisions. What do you want to do, and when do you want to do it. It's one of the biggest best reasons to go van travelling. If you get bored in the water, you can literally just up sticks and go to the mountains. This is  freedom. This is what life is all about.
10. What's better than a room with a view? (A room with lots of different views)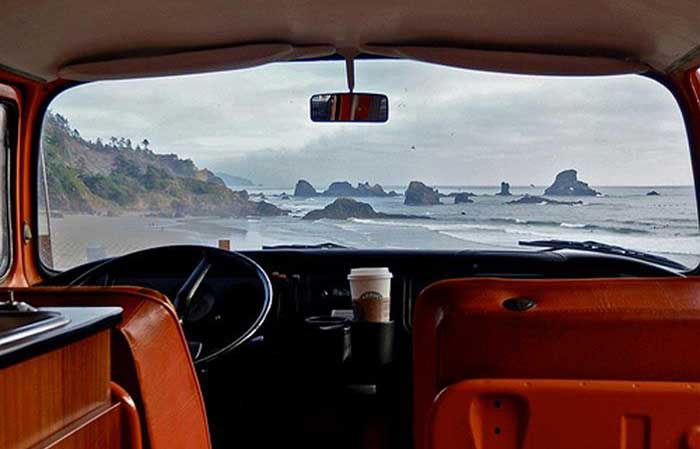 If you like somewhere, you can stay there; often for free.
Pretty straightforward, eh? You like that beach you just drove by in North Australia? Pull up and stop for the night. Where else do you have to go. Get up in the morning and gaze at the best view you've ever seen, since the day before where you stopped off at the side of a mountain. It's your road trip, do what you want.
Do exercise some common sense though. Don't stop for the night beside an abandoned mine, or an eerily smoking volcano.
11. Dogs allowed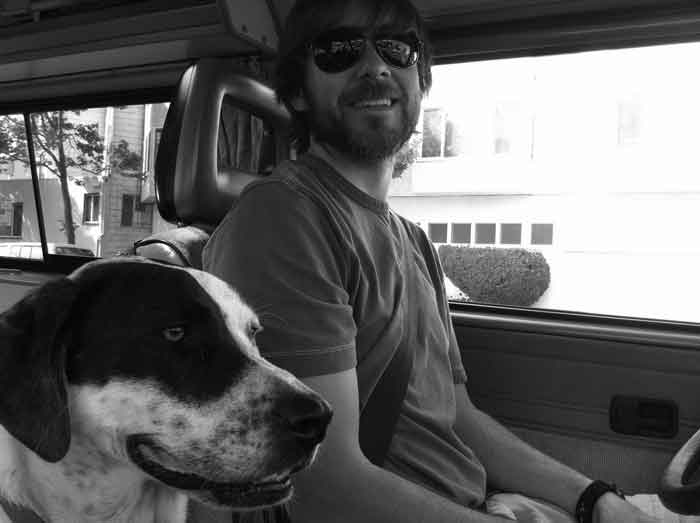 Dogs are van travelers' best friend. If you're not venturing over quarantine zones, then you can take your dog with you. Dogs love traveling as much as you do, and who wouldn't want to take their best friend with them along for the ride. While they're at it they can do some map reading drooling too.
13. It's tea time whenever you want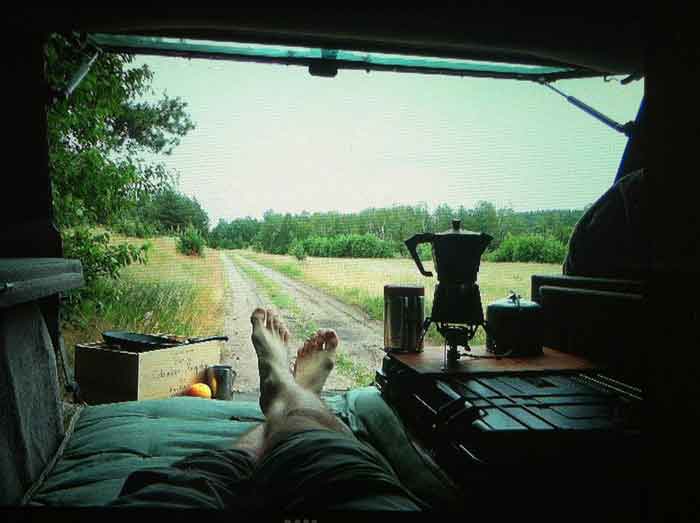 In a van, you can stop and make coffee in your own mobile kitchen overlooking the Grand Canyon.
14. You can declutter your life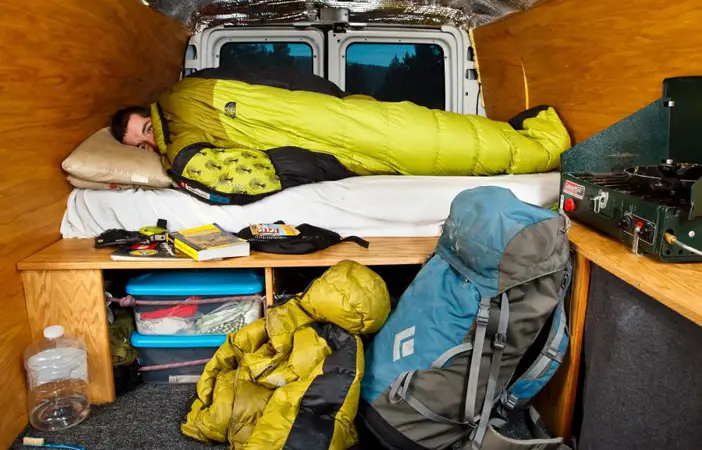 Embrace minimalism. Because you won't have a choice. There's not a lot of room in a van, every lingering thing will create a perceived mess. You'll be surprised how little you actually need in your life to be comfortable.
Learn to live and love with what you have. It's not quite packing your life into one bag, but it's close. So that's one really decent sleeping bag please, instead of the dozen or so thing cheap as f*** quilts you have in the house. There is no room in a camper van. Declutter, or go home.
Are your ready to get in your van?
Perhaps live in a van even?
If you're young or old, uninhibited, wild at heart, and after new experiences, chances are the people you will meet along the way are too. And that's why even the worst days traveling the world in a van, are like bad days at the beach.
If Nevada's too hot, then change course and head for Alaska. The world is waiting for you to get out there and discover it with your own eyes.
A van and some luggage, and the roads and the miles will take care of the rest for you. Still not sure about a van but the nomadic style is luring? Consider one of these tiny mobile homes.
Images: Cheap, Martin Irazu, cooking, srv007, night sky, Van Life, wake up in nature, coffeelightslife,  troubadour, Van Life, surfing El Pepe Urugay, Van Life, Kleinmond Beach South Africa, John Charalambous,  Waterloo Bridge London, xpgomes10, tea time, Van Life, dog, Phil King,